Designs From The Past From Poltrona Frau
Famed furniture designer Jean-Marie Massaud gets his inspiration from many elements and generations. For his latest offering he teamed up with Poltrona Frau to produce the Kennedee modular sofa sectional capable of an infinite number of combinations with different elements allowing free creation.
If the 50's and 60's come to mind its because Massaud studied designs that were popular during that era to create a sofa reminiscent of "the golden and lighthearted era of Jacqueline Kennedy's modern, carefree, and sophisticated elegance".
Poltrona Frau is know for handcrafted workmanship and every detail is perfected by age old artisanal skills making their products as quality made as they are stylish.
Palio Dining Table
Contemporary design can easily fall into the trap of alienating guests in a cold house full of harsh lines and shapes.  To maintain clean lines and yet bring the warmth that transforms a house into a home presents designers with a modern challenge.
Ludovica and Roberto Palomba tackled this issue head-on, and proof of their victory lies in the Palio Dining Table for Poltrona Frau.  While the lines are undeniably crisp and rigid, the elements of color and texture make this table feel as though it can truly be a part of your lifestyle.
Coupled with a slightly mid-century retro vibe, the rich finish is a product of carefully stained ash veneers.  The Palo Dining Table for Poltrona Frau comes in either natural tones or the dark, tropical wengé version, the wood grain in the table gives it an organic, casual feel to offset the precise geometry.
The mixture of natural and man-made design elements has quickly become the signature of domestic contemporary design; where minimalistic meets home.  The thin slab of tabletop rests gracefully atop two perpendicular legs, each with a slight twist designed to catch your attention.
To achieve the sense of motion in the supports, each one is crafted in polyurethane and covered in your choice of Pelle Frau® Color System or Saddle leathers, a texture complement to the smooth ash wood.  The paper-thin proportions are elegant like origami without being overbearing in your décor scheme.
With the Palio Dining Table, you can have contemporary design that still feels like home.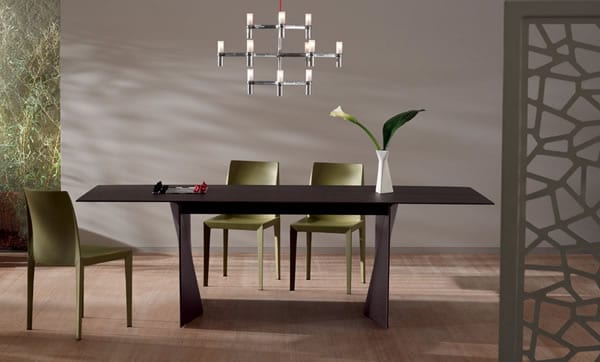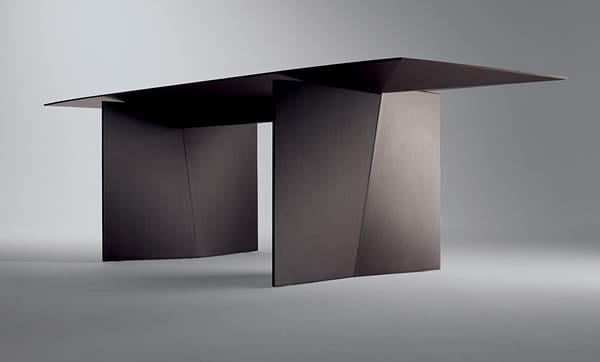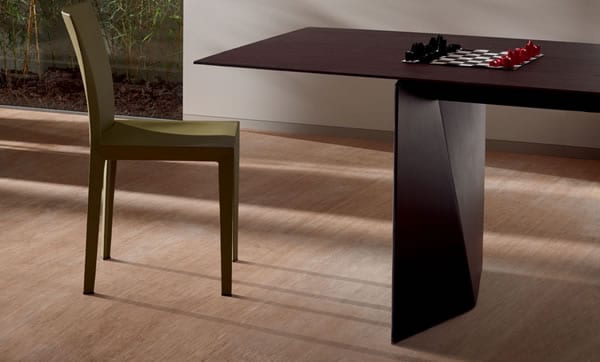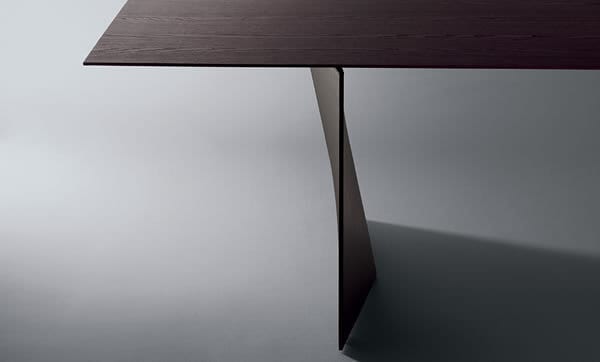 Regina II Chair
Looking for a chair that offers the perfect blend of the old and new? Get the Regina II chair by Poltrona Frau Group. Regina II is a swivel armchair that reinterprets the classic bergère. Sophisticated and elegant, the chair comes with an ottoman and is perfect for a living room or bedroom.
Tuck the pair into your guest room and give your visitors a wonderful surprise they won't forget in a while. Regina II is the brainchild of Paolo Rizzatto who shows off his love for fashion in the intricate details and hidden features which cater to the needs of the customer. It is perfect for both commercial and residential applications.
If you're worried whether this chair will coordinate with your living room décor, don't be. The chair's neutral upholstery makes it a perfect match for your home office or for relaxing in front of your flat screen television. You can also get it for your office and enjoy utter comfort in a hectic environment.
Its exceptional workmanship enlivens its surface and creates a lovely play of solids and spaces. The Regina II chair by Poltrona Frau Group is padded with Dacron® and polyurethane foam and its base is painted steel. Its backrest and seat are upholstered in Pelle Frau® leather.
This seat gives you all the comfort you need. Its elegant design brings to mind the traditional French interior. It captures attention with its lovely shape that seems to embrace you from behind. It is perfect for French-inspired living rooms, lounges, and other interiors.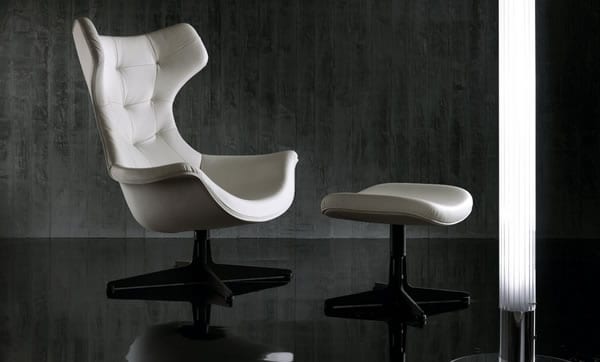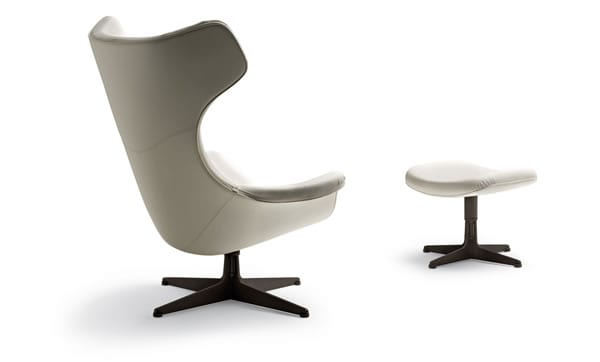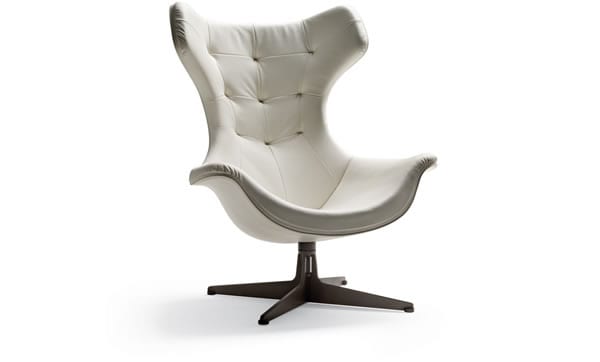 Larus Chaise Lounge
The Larus Chaise Lounge may support the belief that it is better to look good than to feel good at first glance, however this ultra modern lounger supports both concepts equally. Poltrona Frau incorporated a variety of electric massage, and reclining features that work off of a rechargeable battery.
Additionally an air-wave massage feature adds to the comfort, thanks to a patented mechanism that allows the intensity of the movement to be controlled via remote control. Various leathers and colors available, armrests optional.
Get a price and availability from Cattelan.it
Massaud S Kennedee Sofa by Poltrona Frau
The epitome of luxury, the "Kennedee" modular lounge sofa by Jean-Marie Massaud for Poltrona Frau in black leather gives a room style and elegance. The Kennedee by Poltrona Frau is a modular sofa which offers a large number of combinations. Its modules can be placed in a linear and angularly.
Backrests and cushions come with an elegant quilting. They make the structure in seasoned beechwood while the feet come in drawn steel with a gunmetal grey finish. Kennedee sofa is upholstered in Frau leather.
The Isidoro Bar
Once again Poltrona Frau puts convenience into an otherwise common item, and this time it's the Isidoro fold up bar by well know designer Jean-Marie Massuad. Poltrona Frau specializes in furniture that makes sense and compliments a mature modern decor.
The Isidoro Bar has a compact but well-equipped space featuring ample glass and bottle storage, fold down tray, and a large and small storage drawer for all your bar accessories. A stunning piece of furniture that is now classic and will be sought after.
The Oceano Jewelry Cabinet by Designer Andree Putman
When it comes to innovation and really cool convenient space saving furniture accessories, Poltrona Frau is one name that won't let you down. The Oceano jewelry cabinet by designer Andree Putman definitely makes the best use of a small space.
A fold up style design allows you to conceal your valuables when not in use, and the wheels allow you to move the Oceano away to the closet or another out of the way spot. I must say Andree Pitman left nothing out of this very intricate jewelry storage cabinet which sports a multitude of various sized drawers, hanger, trays, and cabinets.
The Dezza Armchair
If you love extraordinary furniture, you will love the Dezza armchair by Poltrona Frau Group. Lightweight and adaptable, it is comfortable yet stylish at the same time. The chair was designed in 1965 by Gio Ponti and has been reproduced in a sophisticated re-edition that enhances its stylistic uniqueness and formal beauty.
It is a high quality chair that brings timeless appeal into any home setting.
The Dezza armchair by Poltrona Frau Group is available in Heritage leather, Pelle Frau® leather, soul leather (pony skin), and a mix of leather and non-removable fabric. It comes in two versions; number 12 and 48 which can be considered a chair and sofa.
Number 12 has slender armrests allowing you to place 2 or more chairs close together. Number 48 is larger and features a goose-down headrest incorporated into the backrest. The chair's feet are made from ash-wood and painted black or white with open-pore paint.
The paint is applied lightly to ensure that the wood grain remains visible.
The chair's backrest and seat cushions are padded with goose down and polyurethane foam. Get the armchair with a pony skin leather cover and give your home a bit of country charm. Simple yet special, the Dezza chair and sofa are must-haves for people who love unique furniture.
If you want to create a safari-chic style in your living room, guest room, or bedroom, get the Dezza armchair. Its exceptional design is sure to be a showstopper in any room.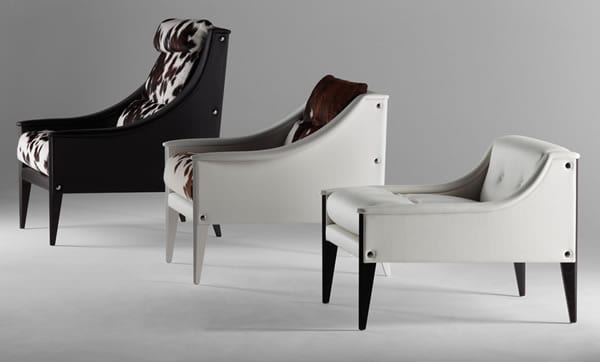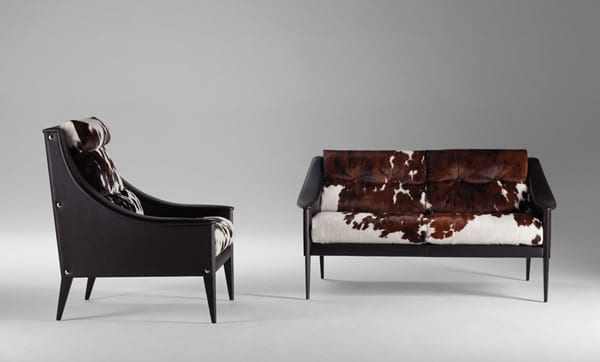 The Babel Bar Unit
The Babel Bar Unit is the masterpiece of award-winning designer Roberto Lazzeroni. It is a rather deviant take on the regular bar unit. However, it provides the same amount of functionality if not more. It is crafted for the Poltrona Frau Groupand is a class apart from its competitors. The Poltrona Frau Group is a globally renowned company whose designs exemplify class and exquisiteness.
The Babel Bar Unit by Poltrona Frau Group is comprised of three cupboards: two of the same size and a third bigger one. The two equal ones rest on top of the third one. The units blend beautifully to create a compact home bar that can be placed anywhere on the floor.
Babel is made of multiply Birch and features chromium-plated tubular steel dividers in one cupboard. It has chrome plated steel dividers for glasses in another cupboard and a chrome plated storage box with chrome plated steel handles.
A smooth mechanism enables its two top cupboards to open outwards giving way to the larger one underneath. The bottoms of all the cupboards are painted in a scratch proof, black matt paint while the visible parts of the mechanism bear a matt black lacquer finish.
The two smaller cupboards feature 'lift up' doors with ebony veneer on the bottoms. All the cupboards have a lovely exterior made in Cuoio Saddle Extra leather and edged in Pelle Frau®. Their interiors are lined in red Alcantara®.
Babel by Poltrona Frau Group truly personifies impeccable design. It is an exquisitely designed bar that will ensure your guests are entertained in style.
Don'do Rocking Chair
Poltrona Frau Group is renowned worldwide for its furniture pieces which merge expertise, innovation, sustainability, and design. These have earned it the famed reputation of the 'Made in Italy' brand ambassador. Jean-Marie Massaud's Don'do Rocking Chair proudly carries forward the company's philosophy.
This modern interpretation of a casual rocking chair makes use of traditional craftsmanship and top-notch manufacturing processes. Its basic framework is structured out of bent multi-ply beech wood and its feet are crafted from steam-curved oak. The feet flaunt a walnut finish on their lower part.
Don'do Rocking Chair by Poltrona Frau Group has a lovely silhouette with a fine balance of lines, curves and thickness. It offers very sleek and chic aesthetics. Its multi-ply beech frame lends strength and stability and its stunning upholstery adds to its durability.
The upholstery comes in a wide range. You can get it in Heritage leather, RAF leather, or Pelle Frau® leather in a lovely selection of colors. The chair comes with a headrest that offers users extra comfort. Jean-Marie Massaud's talent as a designer is clearly seen in this piece. It is comfy and flexible and can be used in numerous ways.
If you like to read in the evenings, unwind with a cup of coffee, or just relax and take in the surroundings, Don'do is what you need. It is a great furniture piece you'll be more than proud to own. Pair it with a throw and take your comfort to a whole new level.
Wouldn't you love to unwind on the Don'do Rocking Chair?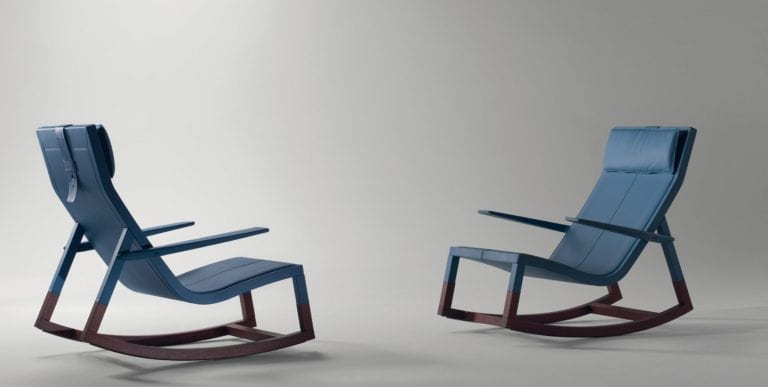 Naidei Sofa Bed
Do you love furniture pieces that are compact and utilitarian? If you answered "yes," you'll love the Naidei Sofa Bed by Poltrona Frau Group. It is the tour de force of designer Tobia Scarpa who was inspired by small, modern spaces. It will spice up your interiors and add color and interest. The sofa bed exemplifies Poltrona Frau Group's philosophy of pursuing excellence through constant research and innovation and designing products that exude contemporary style.
A sofa by day and a bed by night, the Naidei Sofa Bed by Poltrona Frau Group is all you need in your small home or apartment. It is a perfect fit for living rooms and guest rooms. It has a simple tilting mechanism that stretches up to 90º that enables its armrests to transfigure from pragmatic support surfaces by day to utilitarian bedside tables by night.
It can be made with a leather-upholstered accessory shelf to provide more versatility. Converting the sofa into a bed is an easy process. All you need to do is pull the seat outwards and the one-way castors and metal guides will allow the bed to slide into place.
The sofa bed also comes as a daybed with a drawer under its seat. It is upholstered in fully removable fabric or Pelle Frau®Color System leather.
The Naidei Sofa Bed will not only be useful in compact spaces, it will also create space when required. It offers value for money and will captivate one and all with its innate charm.
Ready to add functionality to your space with the Naidei Sofa Bed?