Luxurious Patio Furniture for Serious Lounging
Patio furniture is my favorite type of furniture because it is for relaxing with friends and enjoying life. In the past few years, a growing trend of luxury furniture made for outdoors has emerged and companies like Gandia Blasco, B&B Italia, and Dedon have made quite a splash out by the pool.
Here are some of the most impressive patio furniture designs from around the world in a variety of styles from super sleek to woven wicker all with one thing in common, they look inviting.
Have a great summer and enjoy your patio furniture!! Seashell all weather resistant weave from Dedon offers breathable carefree maintenance for comfort and lasting good looks.
Cot Daybed features a fully upholstered construction made in California of 95% recyclable materials. Movable lean bolsters can be placed together as a headboard or on opposite ends of conversation lounging.
Patio Furniture: Patio Furniture – 100 Must See Designs and Images
Gloster combines modern styling with an organic structure in their Scoop collection that features woven curved shapes and integral seat cushions that offer superior comfort. Gloster has a must see collection of outdoor furniture geared for high style living.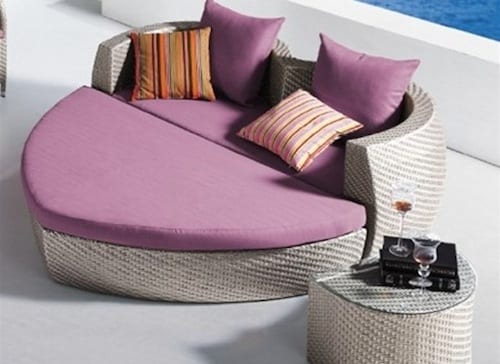 The "Sun Bed" by Woven Furniture Designs Inc (WFDI) features a sleek sexy curvature that cradles your body in a leaf-like structure that tastefully blends organically into an outdoor setting without a typical patio furniture look.
The "Leaf" organic patio or beach lounger from Dedon is available in two sizes and was the recipient of the "Award for Outstanding Design" by the British Interior Design Association.
Designers Harry&Camila gave the super modern "Zofa" outdoor furniture collection a crisp clean look with generous depths that include accent and lounge chairs, sofa sectional pieces, and coffee and end tables. By Dedon
The "Kosmos" from Begium company, Extremis is perfect for those cozy outdoor dinners with friends thanks to a circular designed seating area and umbrella that covers the entire seating arrangement.
I think this keeps with their "tools for togetherness" motto.

Here is an outdoor furniture set called Cake from Moban that promotes conversation around the included table and it is perfect for smaller spaces especially apartments.
Here are a sampling of the stylish bent, shaped, and curved wood chairs from David Trubridge that offer a natural element and creative design to any patio or back yard setting.
See the rest here.
Kreiss furniture and Agassi/ Graf teamed up to produce this very stylish series of outdoor furniture that features a covered cabana and several woven seating elements and accent tables.
Landscape Forms "Chill Bench" from their 35 collection has a sleek modern one piece construction made from mostly recycled materials which makes for easy cleaning. 32″ h x 62″ l x 28″ w
Available in black, daisy, fog, grass, melon, otter, pine, and sky. Get it here
Designer Richard Frinier teamed up with luxury patio and outdoor furniture maker Dedon to create this collection that you might expect to see at a top notch spa resort or a well decorated back yard like yours.
See more here.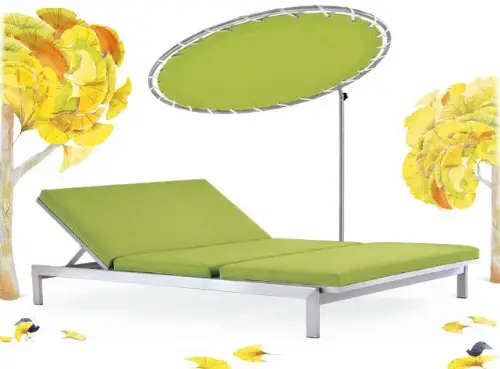 The Case Study Chaise is my idea of very stylish patio furniture originally part of the Case Study House Program of 1945-1966 which is available in a single 10H x 31W x 79D. $1695 or double wide 10H x 50W x 79D.
$2650.
Optional umbrella $1495 from Modernica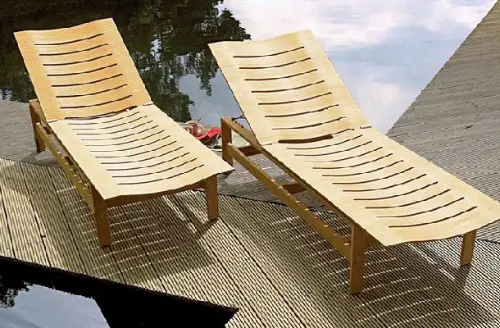 Another Gloster collection Elan recently won a Red Dot Design Award and features curved laminated seat backs that offer a nice smooth comfortable feel and look. Very sophisticated!
The Skyline Design Furniture collection of luxury patio furniture looks great and will last the test of Mother Nature thanks to the use of top-quality synthetic fibers.
I like the creativity of the collection that is now available in North America after a big success in Europe and Asia. See more outstanding patio designs and ideas here.