Give your outdoor spaces more fun, fashion and function by adding a modular outdoor kitchen system to the mix. Your springtime dinners and dinner parties will have so much more pizzazz, style and help if you're able to add pieces like these that can kick off the party. From the porch to the patio to the pool area, there are tons of ways to give yourself and the family the right kind of luxury, style and usage when it comes to adding appliances to the yard. Just watch how much more enjoyable your entire home will be with the addition of one of these incredible outdoor kitchen modular systems and see how these cool design ideas can improve your outdoor space.
There's something so chic and fashion-forward about this style. And we love how you can arrange the pieces in whatever format you'd like. From the grill to the oven, to the stove-top and all the way to the prep and serving station, this set up literally has everything you need to make your evenings that much brighter and more socially-conscious.
A bit more traditional than the first option but just as slick, we love this design. There's ample amount of storage and fits right into the chic and soft surface of this covered patio. Just think of all the friendly brunches and family dinners that this space will be able to hold while the weather stays beautiful and cozy.
More subtle and less style-conscious than its predecessors, this simple, black style is more function than fashion. Which is okay, since this backyard patio "vision" is grandiose enough in and of itself. If you're looking for a piece that gives you what you need without becoming too over-the-top, this may be the pick for you! We also love the table addition on the end – you won't even have to look for a place to enjoy the food you've made that matches!
If you don't have a lot of space and want to keep things concise and together, you may want something like this stainless steel beauty. It's got all the necessities without becoming too bulky or taking up too much patio or porch space. We also love that it has a sink, which some of the stand-alone concepts will do without.
Here is another great option for when you need somethingthat will fit right into a nook or cranny that's already provided. Stainless steel is always a great, classic option when it comes to kitchen style and it too has all the necessities, including a sink and built-in cutting board, that you need to create a perfect, casual dinner for your family and guests to enjoy!
There's something really traditional, yet beautiful, about this design. It could be the lights that come on at night so you can make sure you're cooking everything to perfect, even when the sun goes down. Or if could be the mixed material look that it comes combining blacks, neutrals and stainless steel finishes.
The view may take your breath away but so could this set-up! Between the breakfast bar that overlooks like lake (which is smart placement, of course), to the corner setting of the grill and all of the prep and serving space you could possibly need, this version may be the smartest and most luxurious of the bunch thus far! It's perfect for those with the need for more and the space to put it in!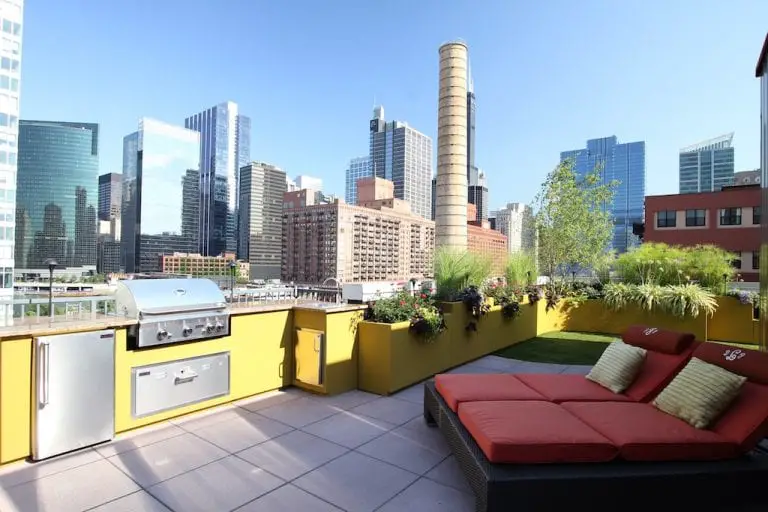 We have to say first, this yellow shade is bursting with style and personality! We also love how the one blends and melds easily into the rest of this top patio overlooking the city. The necessity is there, the function is there, but it doesn't overpower the overall feel and vision of this eclectic and charming outdoor space.
For a more rustic and homey look, try finding a style that seems more organic. You can still have those stainless steel touches for a more chic and polished style, but this textural, rock-layered piece is so beautiful and fitting for an outdoor escape you get to enjoy with your family and friends at a moment's notice.
Smooth and sleek just like the rest of this incredible outdoor space, we have another and final example of a chic modular kitchen system that can fit into a smaller space without needing any room to "spread" out. We love that it's hidden away in the corner for more functional reasons, while the rest of this gorgeous patio can be used for easy entertaining and enjoyment.