From the world leader in comfort seating comes a great place to spend you quality time. Lets face it, a great movie is always better when you in total comfort. Hand made in Norway, the Ekornes Stressless line is hands down the dollar for dollar best value in living room, and theater seating. Unlike the look alike counterfiets, the Stressless line made since 1972 will be a welcome addition to you home, recreational vehicle, or boat for many years. Based on the articulating frame the seats are even developed in various sizes to fit everyone.
In the past five years one area that really exploded in the furniture market is home theater and Ekornes not only joined the race, but took the lead as The Best Seat. The internal frame is the secret to the comfort and function in all of their products. The articulating headrest moves forward as the recliner moves back allowing for a perfect viewing and reading position. In the same motion a lower lumber positions itself creating excellent back support. All this happens with a simple push back, no levers or gadgets to pull or position.
With a multitude of quality leather and wood options, the decorator in the family will also be happy. In addition several accessory tables as well as ottomans make the experience complete. One item even combines a footrest, table, and storage space on lockable wheels for multifunctional use of your room.As I mentioned before, there are many copies that have a similar look borrowed from the Ekornes line and they are not even close to the quality of Stressless. If you value your time spend it and your money wisely!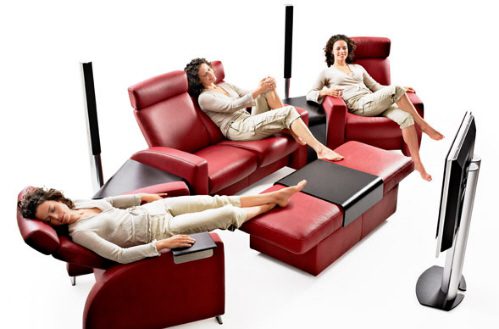 Hits: 0