Mudrooms can be an entryway or the exit at the back end of the house.  It's a room that the family and guests will be entering to take off their muddy boots and jackets and setting down wet umbrellas and heavy bags.  As an entryway, it's the first thing your guests will see and it is a way to welcome them into your home.  Having a place designated for shoes and coats is a great way to keep things organized, especially when entertaining several guests at a time.  There are so many ways to get creative with this.  It doesn't have to look as gritty as it sounds.  It's becoming a popular focal point for designers and do-it-yourselfers alike.  It can be an interesting space to show off and decorate.  Here are some different design ideas to help you get inspired to decorate your mudroom.
Designer Mudroom
This is the quintessential West Elm inspired design that shows off you really know how to decorate and style a room.  It's bursting with great items to add to your mudroom.  Ever thought of using a rug to hang on the wall?  This vignette shows you how.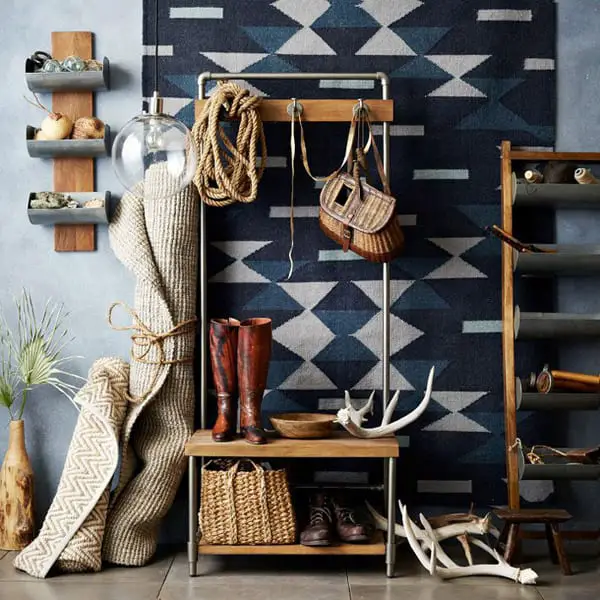 Organized Mudroom
The main point of a mudroom is to organize the items you don't want laying around your house.  You can use it to get organized by adding shelving, crates, baskets, hooks, and anything that will keep your stuff in one place.  Keeping it organized will allow you to "grab and go" with your essentials.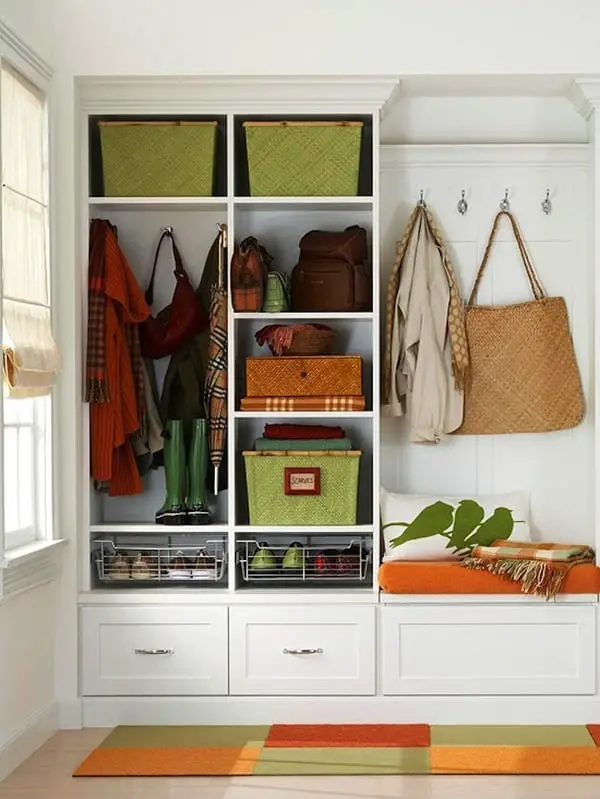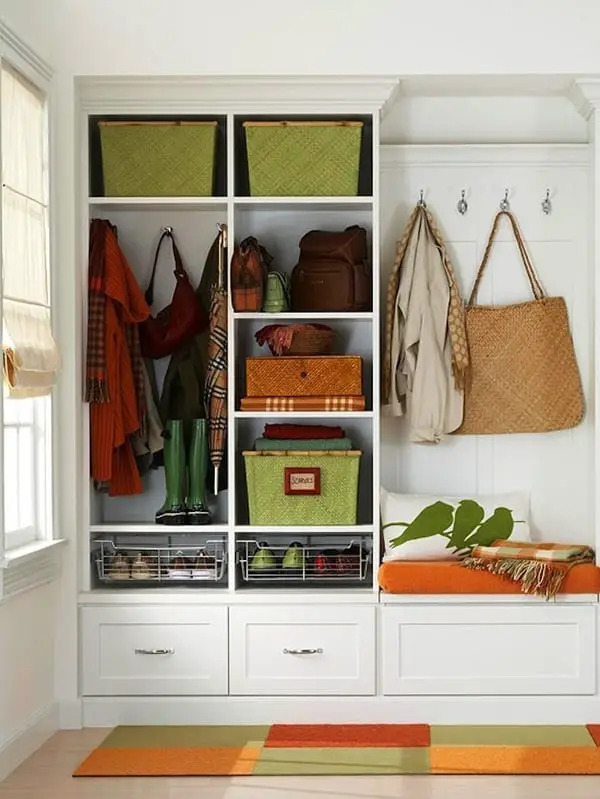 Small Space Mud room
Many homes don't have designated spaces specifically for a mudroom.  That shouldn't be a problem if you can find a space near your entryway to reclaim. Something as simple as adding a hook rack and seating can easily let guests know where they should put their things.
Simple and Clean 
If you don't want a lot of clutter and traffic, you can lay off on the décor and spice things up with simple accents and a clean looking wallpaper design.  You can swap a functional mudroom for an aesthetically pleasing mudroom.  The choice is yours.
Kid Friendly 
A mudroom might be especially needed for those with kids.  Instead of having children throw their coats and backpacks on the floor when they come home, built-in shelving with designated spots and bins for each child might be a way to teach them organization early on.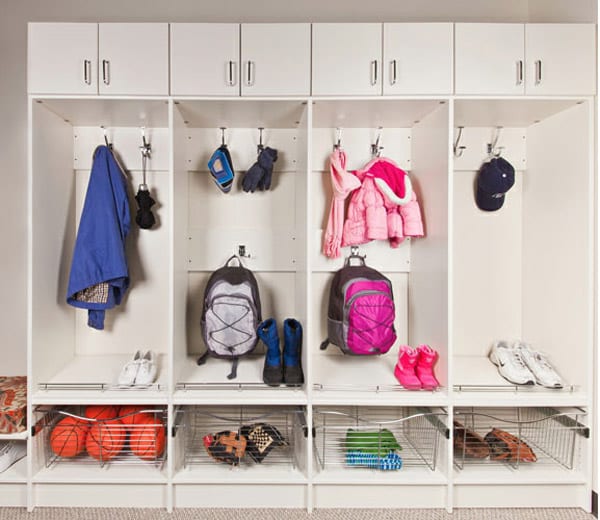 DIY with Wooden Crates

It's easy to create a DIY style rustic mudroom with a few strategically place wooden crates.  Attach a few hooks to some wooden planks and you've also got yourself a coat hook.  This is a very easy yet stylish way to create your mudroom from scratch or found items.
Industrial Design
An industrial look for a mudroom could be achieved by adding scaffolding tubes and hooks. The metal pipes combined with the wooden shelves and seating make for an interesting design.