Just like with the girls, it can be hard trying to co-decorate your teenage boy's bedroom. From sports equipment to clothes in piles, we already know the challenge is real and it can get frustrating. But, we're here to show you how to easily transform that room full of little boys' toys to something a young man can be proud of. For some easy inspiration, take a look at 5 classic, stylish and, of course, contemporary ways to creating a modern teen boy bedroom!
From the accent wall to the savvy bedspread, this bedroom is youthful and contemporary all in the same breath. Even though the style is unmistakable, it's still fit for a teenager that wants a bit of sophistication and youth built into his place of rest. The sports infusion and mix of modern details make this a place any teen would want to show off to his buddies.
Chic colors and smooth designs, this smaller space has all the necessities needed to make a modern look. It has an easy masculine feel that any growing boy would want to exude but it also has an easy upkeep, which every teenager finds essential. We also love how the light hits that pumpkin tone for a refreshing afternoon filled with homework and socializing.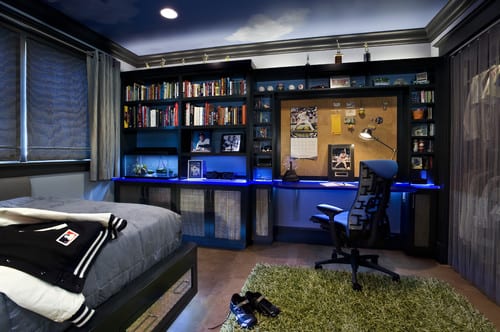 A downtown feel with a glowy, club vibe, this bedroom will make any teenage boy happy. It's relaxing with the blue lights and grey foundation, but it's also quite fashion-forward in design. There's enough room to be organized and do homework, as well as enough space to get a little R&R after a week of grueling school.
Created with a more homey, traditional vibe, this contemporary room also has quite the sophisticated and "grown-up" look. The chocolate browns exude confidence and the accents make for a manly charm throughout the space. We love the personal touch of the guitar too!
For those with a more funky style, try some eclectic designs. Bright colors mixed with some masculine neutrals can make for an easy bedroom with lots of personality. We love the mixture of materials, like the wood and metal. And of course, the beautiful windows give off the best possible lighting.
photos via Decoist 
Hits: 0