Craving some solid built American made furniture?  You're not alone.  The appeal for handcrafted furniture with all parts and materials made in America has erupted.  These quality and unique furniture pieces are made by the company, BDDW and may just be what you are looking for to refresh a dull look in your home.  BDDW makes several pieces of handcrafted furniture including, sofas, credenzas, lighting, shelving, seating, mirrors, and even clocks.
The materials used are commonly leather and bronze.  The combination of leather and bronze gives these furniture pieces a look of sophisticated modernity.  They are cool and anything but common.  BDDW just might have re-imagined what we think of American furniture.  Check out 5 of their coolest products below.
Abel Sectional Sofa
The Abel Sectional Sofa is a sofa with some serious legs!  The casual yet chic design will look fabulous in a modern living room.  With a wooden frame, the sofa boasts a cotton and horsehair cushion with cast bronze ball feet.  It is customizable in both color and size to fit any living room.  Also choose from a full sofa, loveseat, or single seat.
Leather Writing Desk
This beautiful writing desk is made from an unusual material for a desk; leather.  It's made with genuine leather and can be crafted in several different finishes.  The inside of the desk drawers shows off the wood finish.  This particular image features a great color combination, but it can also be featured in three other bronze colors for the legs of the desk.
Nixie Wall Clock
Have you ever seen a clock like this?  The Nixie Clocks re-imagine what we think a clock should look like.  Even more stunning are the Nixie Grandfather Clocks.  These clocks can be made in several finishes of bronze or wood and include digital tubes to show time.  No one else in your neighborhood will have a clock like this.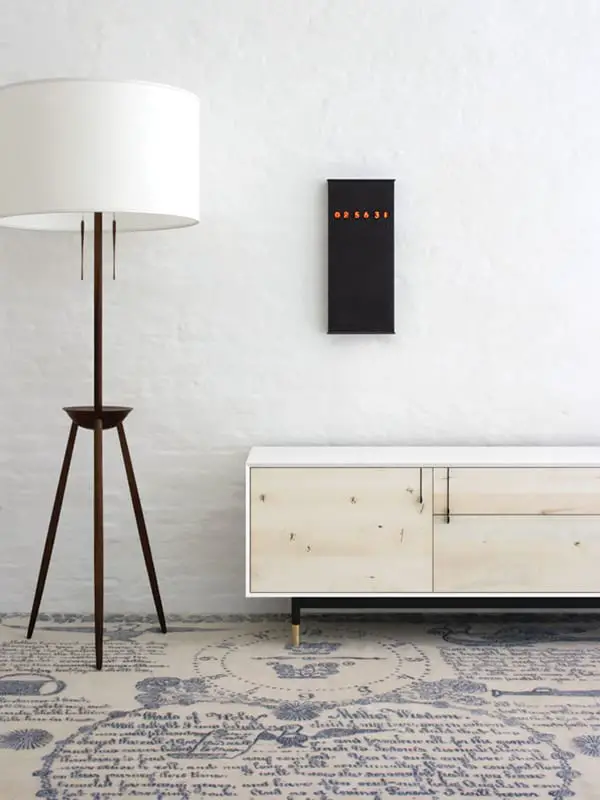 Captain's Mirror
These chic looking circular mirrors are so unique.  They can be hung on the wall for a dramatic effect, in fact they were made to look dramatic.  You can buy them in several dimensions; large for hanging above a credenza or small for bunching a few together.
Leather Credenza
What a beauty!  These leather credenzas are truly a statement piece for any room.  They have a presence that demands a second look.  They can come in several finishes.  They can also be made with a varying number of drawers based on the needs and wants of the buyer. The image below features a stunning aqua leather and bronze hardware.
All images via BDDW.com