The Austrian born, French designer Marc Sadler is a four times winner of the Compasso d'Oro Award and it is known as a truly eclectic designer. He is constantly pushing the limits of conventional design with his purist philosophy and cutting edge technology.
Lovely Day is the new modern day bed that was among the protagonists of the Euromobil Group stand at the International Furniture Show 2017. Created by designer Marc Sadler for Desiree this center-style sofa is designed for the day's fun, but also for a romantic tête à tête.
His Lovely Day is extremely flexible and is perfect for any kind of event. It is equipped with innovative, movable, self-supporting pillows able to create different angles and provide perfect comfort for any combination. The metal sculptural feet lift the sofa from the ground making it lightweight and boosting its floating look and contemporary aspect.
The real innovation of this modern day bed are the self-supporting cushions , which can be freely assembled to construct seating in many different styles. The secret of this flexibility sits in the patented system that is concealed inside the lining of the pillows and allows them to modify their position in various angles. This way, Lovely Day's innovation is integrated into the sofa without affecting the aesthetics.
Homary Beds & More
Homary produce beautiful bedroom products that are of the very best quality. Here we show just one of their beds that is stunning just to look at.
Secure your bedroom in glamorous, luxurious style with this upholstered bed. The entire bed is framed in sturdy and high-quality pine wood and composite plywood with built-in carbon steel and pine wood bed slats.
The headboard is made with breathable foam wrapped in easy-to-clean leath-aire for adding softness and comfort. It is ergonomically designed to strongly support your head, shoulder, waist and hip to reduce your burden an is also decorated with brushed stainless steel gold trim, beautiful and generous.
It is a luxurious and comfortable bed to take your bedroom up a notch and accompany you to sleep.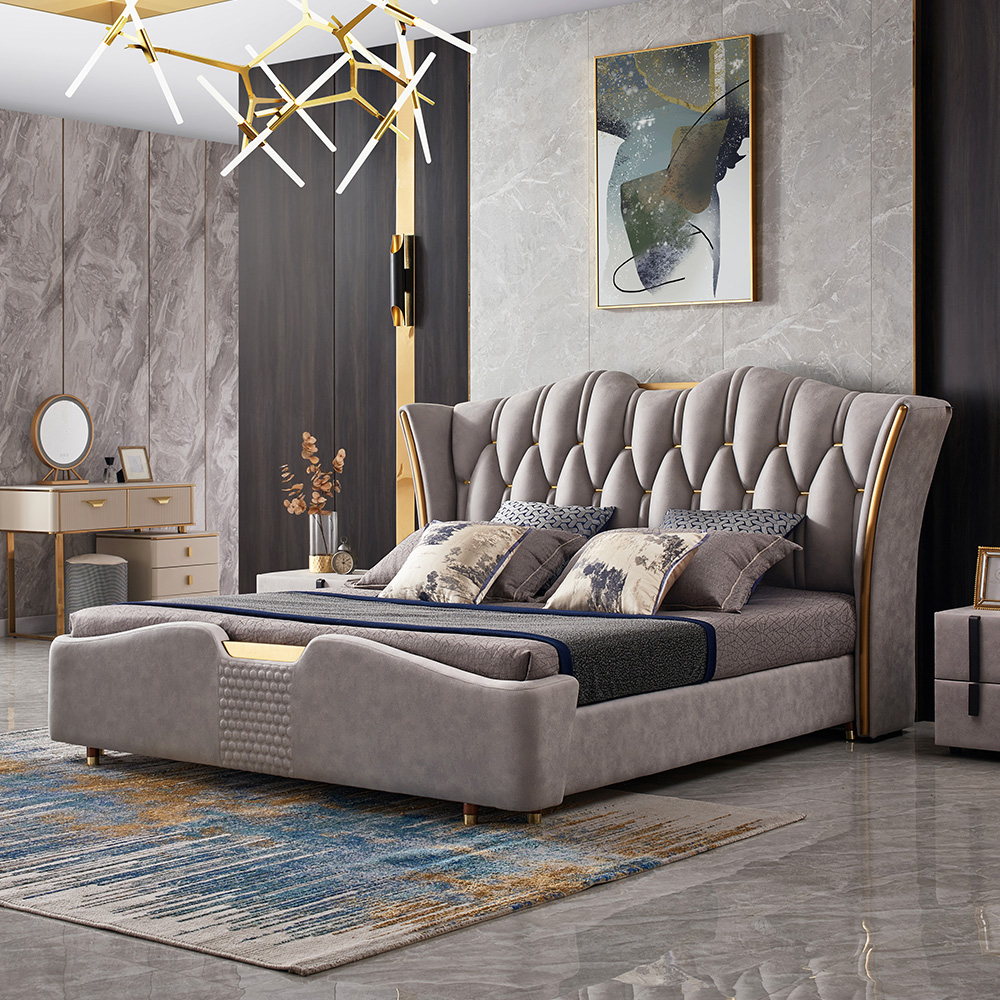 Lovely Day is the ideal solution for different types of ambiance. It is perfect for a good-time moment, in the center of a living room for a comfortable and elegant seat, or its has the ability to turn it into a bed. It can become a public area sofa simply by placing the backrest in the middle of the couch.
This way it can accommodate more people on both sides, thanks to the reduced thickness of the pillows. One can also arrange the pillows in a Z shape, so it can be used by pairs, each with its own space. A dynamic and perfect sofa that does not lose its elegance and essence in any location.
Puffy Beds
Experience luxurious comfort made simple with Puffy Beds. With their complimentary sleep trial, lifetime warranty, and flexible financing options, we've got you covered.
Puffy offer something unique. Order your new Puffy Mattress worry-free. Every mattress comes with a 101-night mattress trial period so you can put Puffy to the test. If you don't get the best sleep ever after at least 14 nights, they will give you a full refund.
They even offer a 14 night trial and a free return within this period. If you are not convinced within the first 14 days, you can return the mattress free of charge.
You can even return it for free after the end of the 101 day test period. That is a quality guarantee that is hard to beat anywhere.