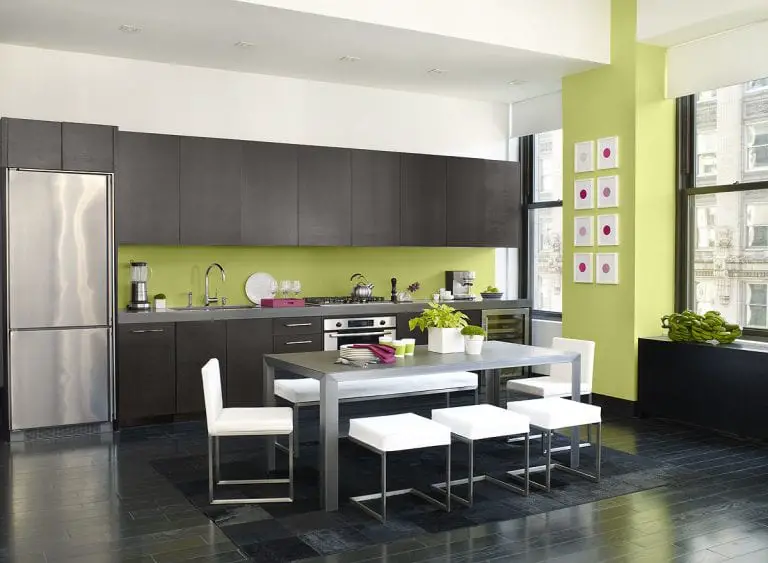 12 Kitchen Color Ideas For Your Eyes
Are you looking for the right color to fit into your kitchen? When deciding on which shades to dress this central, gathering spot of the home, it's important to think about your entire vision, from style and theme to size.
Darker colors work better in bigger rooms with opportunities for natural lighting, while crisper, brighter colors work to make small spaces look larger.
From explosive shades of lime to more subdued shades of charcoal, we've compiled a quick list of 12 new and modern kitchen color ideas to get you brainstorming shade choices and duos that inspires you. Let's take a look and start imagining your new cooking space!
Check Out: 10 Kitchen Counter Height Stools and Ideas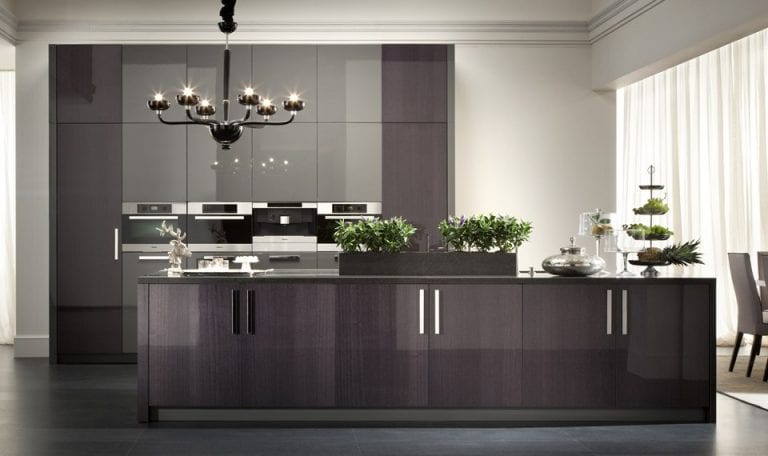 This hazy plum color works incredibly well in this space, for two reasons: the slick, shine of the contemporary cabinets and the large window bursting with light throughout the day.
In a more traditional space this color would look dull and overwhelming, but with the crisp posh appeal of the design as well as the stainless steel hardware this modern kitchen has a feminine touch and no-nonsense vision.
An electric blue kitchen would certainly make for a bold and fashion-forward statement in your home. It's fun, it's upbeat and would also make for a beautiful and interesting place to entertain during holiday parties and a friendly dinner gettogether. Again, this outside-the-box shade works well in this kitchen because of the super modern design.
The mix of contemporary structure and vintage touches make this kitchen a beautiful and welcoming space. This teal and aqua blue combinations lays a great foundation for blending different styles and having fun with accessorizing.
Notice the plated wall decor, the delicate curtains, the velvet chairs and the futuristic finish on all of the cabinets and appliances.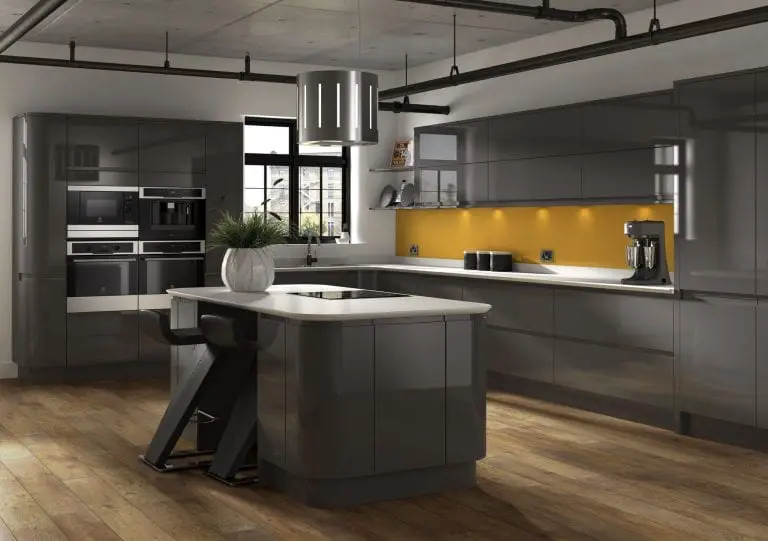 Charcoal is another great choice when you're decorating with a more fashion-forward, contemporary vision in mind. There is so much storage in this kitchen, we're jealous. But this deeper grey tone makes everything chic and tidy in design.
The pop of mustard as a backsplash brings a bout of personality and charm into a room with, essentially, a very clean palette to play with.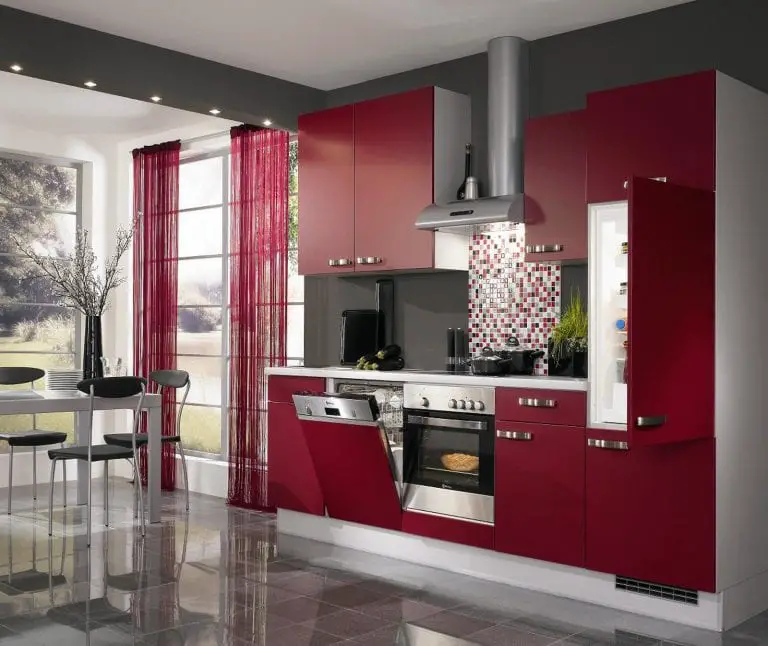 Have you ever thought to use cranberry as more than just an accent color? Used throughout the fall fashions and mixed in with black and white rooms, this lovely maroon counterpart can have an intense, but the feminine charm and we're loving it in this modern kitchen.
It gives the space a freshness and welcoming aura while keeping with the futuristic vibes.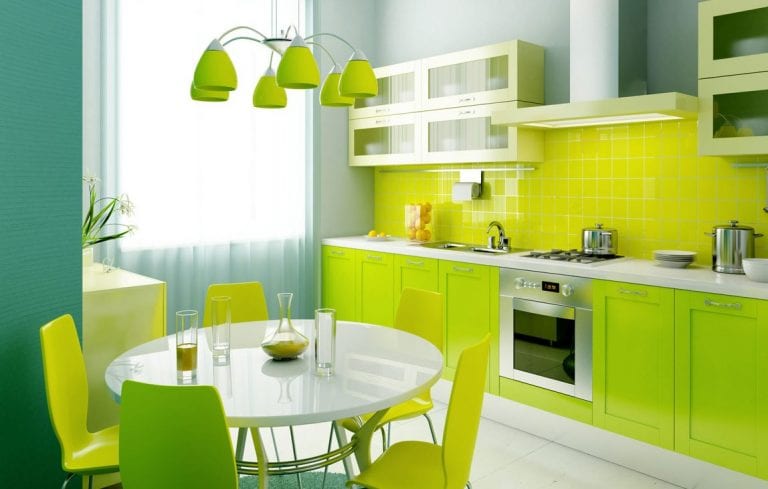 Retro flair and modern touches, this kitchen was made to be seen (and almost heard) with this neon, lime tone. For a youthful edge to your home, don't be afraid to go big and bold.
A smaller kitchen can get away with this type of color as it doesn't make space look any smaller, especially with the nice size window landing at the edge of the room.
Purple is a "royal" shade. It's naturally feminine but it's more serious than a classic pink. So, if you're looking to class up the kitchen with a powerful, yet womanly aura, this is the way to go.
Although this color is paired with whites and silvers, it still takes center stage without becoming too harsh or overwhelming on the theme or eyes. Again, this is a tone that works with very modern structures and less on traditional designs.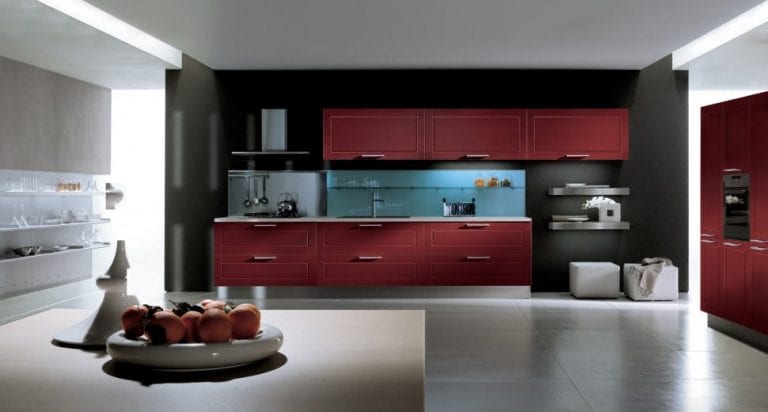 Maroon and black; it's edgy, masculine and has a very hipster, in-the-know feel. The room works well with the outside-the-box color choice because the room is open, spacey and even has some open shelving to create the illusion of more space.
We also feel like this particular maroon shade would do well in a pure white kitchen, as a fun accent color with a more "bachelor pad" vision.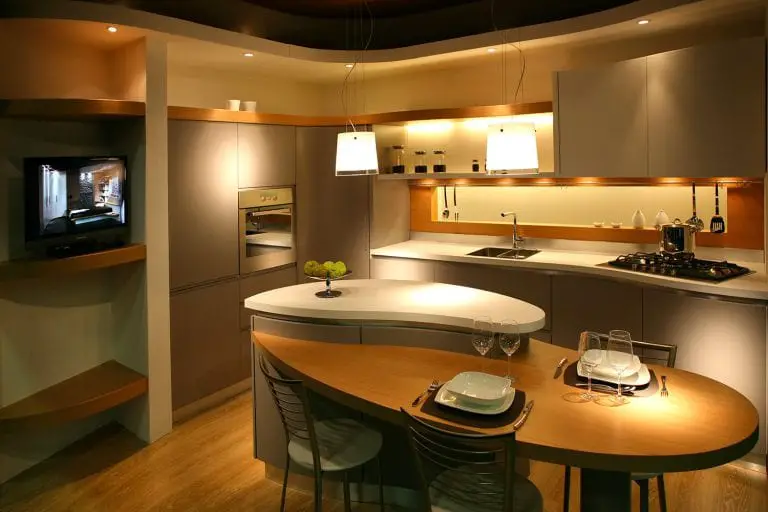 If you're looking for a more traditional style, go with a mixture of natural tones. Beige, camel and cream can make a space more welcoming, centred and homey … which includes the kitchen! It's also a clean and simple way to decorate and design a room, as well as for accenting and accessorizing.
What we love in particular about this kitchen are the mix of natural colors, wooden features and overall contemporary design, it's a great blend of texture and styles.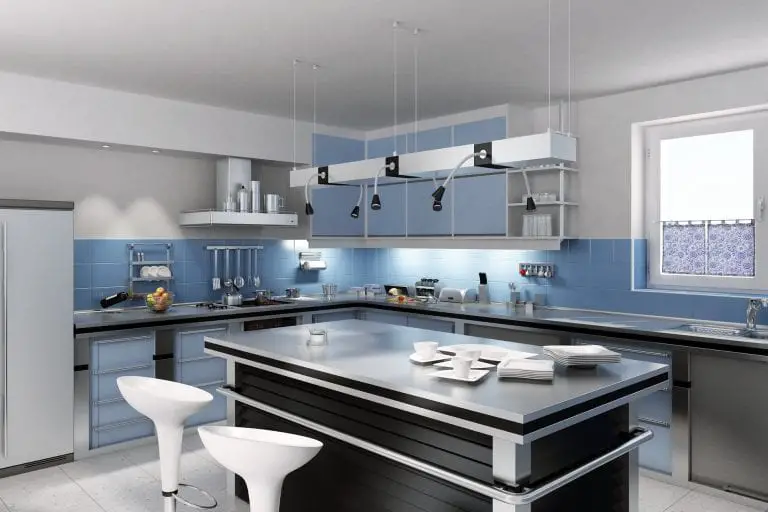 Using a cool light blue will always work, no matter what room you put it in. It's refreshing, light, bright and makes everyone feel good when they're around it. It's also a great color to blend and it's easy to accent.
This kitchen, of course, has a very modern style and is offset by bright whites and crisp blacks, keeping with the modern tone of the space.
We're loving this concept because it again blends retro vibes with retro modern structures. The aqua cabinets hit you with a contemporary tone while the color and the red accent gives us a fun, throwback feel.
We also love that instead of an island, a breakfast table was placed in the center of the room to enjoy the space and the natural lighting for morning coffees and late night snacks.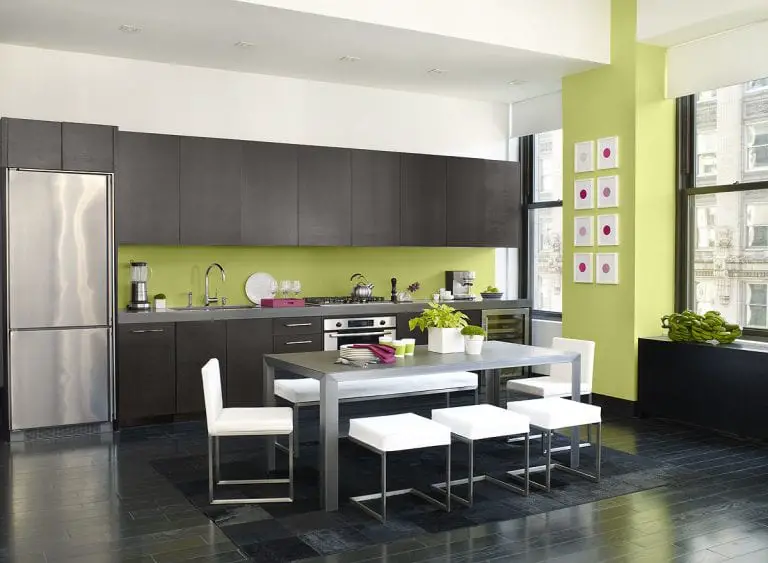 A more natural green is a great route to take when you want something a bit more organic. Then, pair it with black if you still want a room that fits in with your modern home.
It's an interesting and surprising way to decorate but it works when done it the right way and within the right space. This design has the extra room to play with and has the windows to brighten up duller corners.