Pride lift chairs are designed to help people that have challenges in mobility. As our physical body declines through natural aging or ailments, the ability to walk and get up can be limited. Many people can walk fine whereas others may need the use of an aid such as a walker or cane. More common than difficulty in walking is the challenge of getting oneself out of a sitting position such as that in a chair.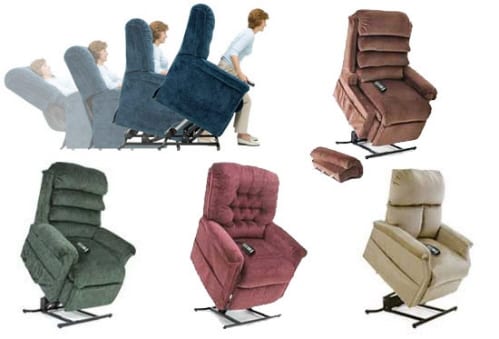 This is where Pride lift chairs can be of assistance. Pride offers motorized chairs that assist the individual by helping them get out of the chair. The motorized device raises the chair slowing from the back allowing the person to ease into an upright position. There is no reason not to enjoy the comfort of a recliner just because it is difficult to get out of it.
Most of us have experienced family members whose mobility has declined. It is important to create a friendly home environment where quality of life is maximized. None of us want to become dependent on the aid of others and small things, such as a Pride lift chair, can help us maintain that independence.
Many insurers consider this a medical device and thus, the costs can be covered under your insurance plan. A prescription from your doctor may be required by the insurer to show proof of a mobility limitation. This may be a great benefit for your family and encouragement to help the loved one purchase a chair. Common complaints against getting a lift chair are costs or that the piece does not fit into the decorating style of the home. Pride chairs come in many styles and colors so hopefully this can curtail that argument. If the insurer covers the cost, there is little reason to not get the chair. Hopefully, a chair can continue the family member's quality of life and prevent injury that could be incurred from getting out of a chair that does not have such motorized assistance.