When renovating your bathroom there are so many questions you ask yourself: What color scheme should I use? Should I get a freestanding tub, or a deck mount? Chrome or Polished Nickel finish? All of these are good questions to ask about the aesthetic aspect of the room, but what about the function of the room… Is this a place you're going to live in for a few years, or are you there for the foreseeable future? If you are planning to do a full renovation of your bathroom, chances are that you feel you may be in your home for the next 10-20 years+. Why not plan for aging in place?
Aging in Place simply means that you plan to live on your own as you grow older, and prepare your surroundings to accommodate your future needs to stay independent as long as possible. To do this, you need to put in place assurances that the space will continue to be accessible, safe, and will fit your abilities.
Now that you know what Aging in Place is, I'll show you it is not difficult to accomplish a beautifully designed space that won't look sterile or hospital like.

One of the first things a client may feel anxious about are the words "grab bars". The first thing clients tend to thing of is their grandparent's bathroom, or a hospital room that has no charm, charisma or feeling, but those days are long gone.
Not many of my clients are opposed to these beauties once they see that there are wonderful options out there that won't make them feel like geriatric patients, but prepared consumers with a sense of style. They are available in many other styles and colors.
Even as gorgeous as these options are, some clients are still skeptical, and don't want to let go of their bar free bathroom yet. However, there are things you can do to be prepared. If you just can't bring yourself to install grab bars, then go ahead an prepare for the future by having your contractor install extra support in the walls where grab bars will be needed. This reinforcement will be there when the need for the grab bars arises, and you'll simply install the bars to the wall without the need to rip out tile to get back into your walls frame work.
Tubs with handgrips are becoming popular with people of all ages, especially for deep tubs. Though the handgrips are not a substitute for grab bars, they may help you to put off the need to install the bars for a bit longer.
These normally come installed on the tub, or are ordered as accessories and installed on-site before the tub is secured in position.
If you are truly considering aging in place, install a roll-in shower. A roll-in shower is a shower that has no curb, or lip on the floor that could prevent a wheelchair from rolling in, or that might trip someone with difficulty lifting his or her legs and feet.
Stress, as well as worries about future accessibility melts away in this roll-in shower.
As far as the fixtures for the bathroom are concerned, you should have two showerheads, one fixed and one adjustable handheld on a sliding bar.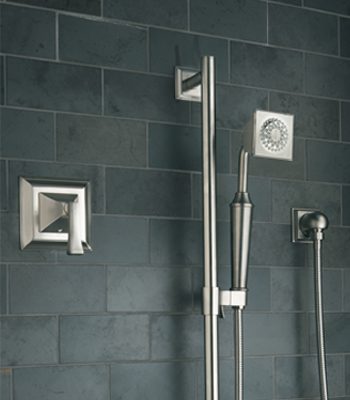 A single handle valve trim that can be turned with a closed fist should be your first shower faucet choice, because we are planning for the unexpected as well as the inevitable. The inevitable is that we are going to grow older and have more limitations, the unexpected are things like stroke that paralyze your limbs and hands. If you have had a stroke or are injured in an accident and break your hand, you must be able to use a faucet, and a rounded handle just won't do.
The same is true of sink faucets and tub fillers. Fortunately, we are living in the 21st century and have thousands of choices that enable us to find a style we
love
, without sacrificing function.
As far as sinks go, most will work just fine with ADA guidelines, though I prefer under mount instead of over mount for aesthetic purposes. Some low vessel sinks are acceptable if positioned at the right height, but for the most part try to keep it simple.
Make sure that your sinks are mounted at the appropriate heights, and you avoid exposed plumbing below the sink without proper insulation.
Toilets should be what is called "right height", "chair height" or "comfort height", meaning that they are higher off the ground than other toilets, usually around 16-18″ high.
While safety and ease of use is our main concern, this toilet is proof that comfort and style go hand in hand.
Though everything I've mentioned above makes sense to you it maybe a little hard to put it all together, so for a completed look that is very functional and accessible, here is a picture from the Kohler website that illustrates what an Aging in place bathroom can really look like.
You'll see the roll in shower, a comfort height toilet, grab bars, and an appropriate sink set-up. Cynthia Leibrock and Mary Beth Rampolla are responsible for this wonderful design, and helping prove that functionality can be beautiful.