Hopper Shade re-defines the way you'll serve your beer in a sunny day. Specifically intended for the Hopper table, the shade cloth can be mounted on top of it and fold conveniently. This awning is custom made for the length of the hopper table. Because the Hopper Shade is also beautiful above several other tables, it is also possible to be fixed on the ground.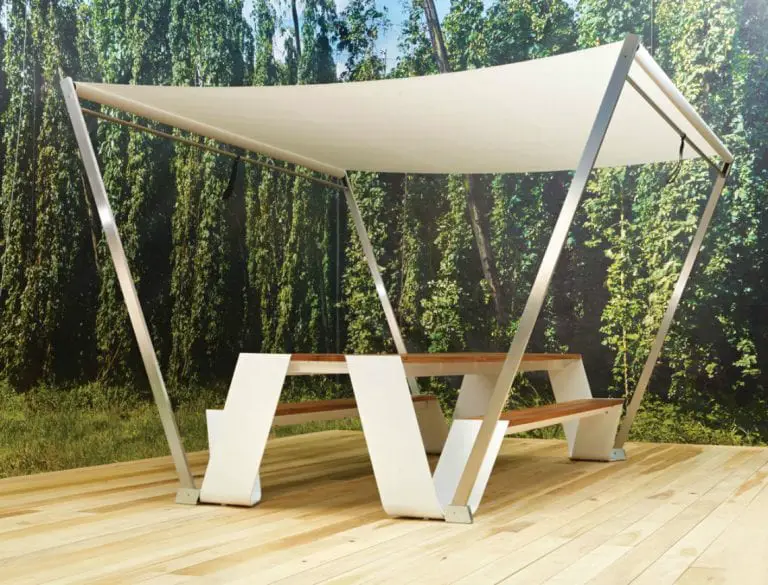 Both opened and closed, Hopper Shade has perfectly flowing lines that create a very aesthetically and enjoyable effect. But there is more to it than aesthetics. Combined with the Hopper table it clearly bears resemblance to the traditional picnic tables everybody knows, but re-designed under Extremis philosophy to offer extra comfort.
The hopper "sunshade" is handy and beautiful. Whether as a useful addition to the Hopper table or as a stand-alone sun protection, the Hopper it's an exceptional piece of furniture designed by Dirk Wynants for Extremis. The all day sun shade comes in 4 sizes which will allow you to 'play' with it and attain exactly the length you are looking for. The materials used are stainless steel for the frame and high-tech polyester cloth which is extremely light, resistant to rotting and water repellent. Due to the special Teflon coating this product is also protected against dirt and has a long durability.
If you are familiar with the Extremis philosophy, you know that innovation is at the heart of their each new design. The perfect piece of patio furniture for enjoying relaxing moments with family and friends on sunny days.

Dirk Wynants got inspired by the hop culture, his very own hop garden and his Tremist beer brand when he first introduced this outdoor concept. Coming from a family of furniture makers, Wyants was born with design in blood, and even as the only owner of the Extremis furniture company, he still dedicates most of his time to designing and art direction.