Aquarium Design For Living Rooms
We're an affiliate
We hope you like our recommendations! Just so you know, we may collect a share of sales or other compensation from the links on this page. Thank you for using our links, it is much appreciated.
I was recently looking for home designs using aquariums on various interior design sites for ideas on a project. There were many examples that showed just a freestanding unit on a countertop as opposed to a more thought out a plan. One trend I saw that was neat was incorporating glass tanks into a wall.
It was interesting seeing suggestions in the kitchen and living rooms though that concept could work anywhere. That is how I got inspired to put this article together and share these ten ideas with our readers.
Let's consider the challenges though in cleaning and maintenance. Caring for fish takes effort and should be part of the decision-making process. Also, having a way to get to the tanks is very important.
Enough of the downside though, let's look at our finds in how these main accent pieces incorporated into a decorating motif.
Kitchen Island Aquarium
This idea is just spectacular! I love the way they have transformed the kitchen island into a living and breathing aquarium ecosphere. How fun would it be to have a snack or beverage while sitting on these barstools and enjoying the scenery out the window or below?
Glass Desk Aquarium
I guess this person must love to work. I mean look at this unique desk. Perhaps it has a calming effect much like how the ocean or a tranquility pond can do for some people. It is very eye-catching for sure.
Bedroom Aquarium
The first thought came to mind was Sea World or other places where you walk beneath and enjoy the fish above. This setup must be costly though as I foresee a custom building process that would be required to create the curve in the glass and then put the entire bedroom suite together.
Hallway Aquarium
As mentioned earlier, the use of walls is a wonderful suggestion for a home. This example does a great job of showing what it could look like in your home.
The picture above shows a gorgeous aquarium. I see how guests would really enjoy this as they enter the foyer and then proceed further into the home.
Kitchen Aquarium
I was first drawn to the great range in the above image.  That six burner model looks to be a dream for want to be chefs and home cooks.  How about the tastefully done tank in the wall?  That is a great accent piece the whole family can enjoy that.  While waiting for dishes one could gaze at the swimming fish.
Living Room Aquarium
Decorating your home with a reef aquarium can also help in overcoming pain and anxiety.  A fish aquarium is an easy way to treat anxiety disorder. When you stare at the fish's swim, your mind gets diverted and you feel more relaxed and easy.
These are marine enthusiasts that also enjoy music by looking at the grand piano. This larger scale example makes the room and was the homeowner's choice over a large painting.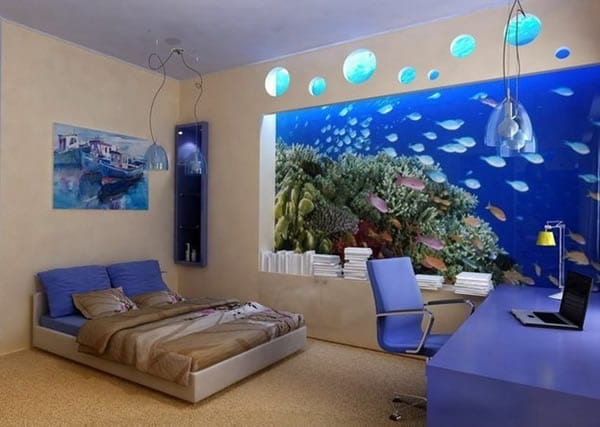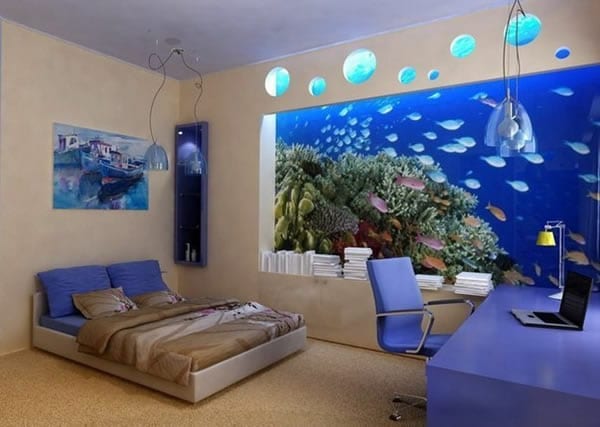 Suspended Ceiling Aquarium
This idea surprised me. Suspending from the ceiling is a clever design. My only concern here would be if it obstructs the view to the rest of the home. Taller people may have to duck to look beyond the bar area.
Dining Room Aquarium
And yet we see another island example that is sizable. Some very large fish could inhabit this space. I wonder where the hatch is that you can get access for cleaning and maintenance.
Living and Kitchen Combo Aquarium
Here is another in wall example that separates the kitchen from the living area. This living space looks to be smaller than others in the article so for our readers in lofts and apartments, a design similar to this can work for you.
Wine Storage Aquarium
This home is interesting in how much space they have dedicated to this decorating theme. I like the wine storage just off to the right of the larger model. It is interesting to see how this home came together. I would like to walk through the rest of it to get a better understanding of the overall floor plan.
Image
Title
Price
Prime
Buy

Top

Top

Midwest Tropical Aquarium Coffee Table w Six Sides

Prime

Take a Look

Top

Tetra 55 Gallon Aquarium Kit with Fish Tank, Fish Net, Fish Food, Filter, Heater and Water Conditioners

Prime

Eligible

Take a Look

Top

Hygger Horizon 8 Gallon LED Glass Aquarium Kit for Starters with 7W Power Filter Pump, 18W Colored led Light, Wide View Curved Shape Fish Tank with Undetachable 3D Rockery Background Decor

Prime

Eligible

Take a Look

Top

Aquatic Fundamentals AMZ-102551 Aquarium Stand 55 Gallon Black

Prime

Take a Look

Top

Tetra PLAYMOBIL Explore Your Aquarium 10 Gallon Kit

Prime

Eligible

Take a Look

Top

Tetra ColorFusion Aquarium 20 Gallon Fish Tank Kit, Includes LED Lighting and Decor

Prime

Eligible

Take a Look

Top

Hygger 4 Gallon Smart Touchscreen LED Temperature Display Aquarium Kit with Flip Lid, 3-in-1 Water Pump, LED Light Hood and 2 Filter Cartridges, Small Fish Tank Starter Kit

Prime

Eligible

Take a Look

Top

Lifegard Aquatics Ultra Low Iron Crystal Aquarium Beveled Edge 45° Rimless 17.11 Gallons, Clear

Prime

Eligible

Take a Look

Top

SeaClear 50 gal Acrylic Aquarium Combo Set, 36 by 15 by 20", Clear

Prime

Eligible

Take a Look
Product prices and availability are accurate as of the date/time indicated and are subject to change. Any price and availability information displayed on [relevant Amazon Site(s), as applicable] at the time of purchase will apply to the purchase of this product.
Prices pulled from the Amazon Product Advertising API on:
All images have been checked through Tineye.