Display Cabinet from Rossato
Hampton display cabinet creates an essential geometry with a perfect balance between full and empty. Designed by Hangar Design Group for Rossato the highly customizable Hampton cabinet helps you show off your home's treasures in style. Part of a collection intended both for private homes and top luxury hotels thanks to Rossato's many years of experience in the contract design industry.
Cabinets add a special feel to almost any room. Depending on the cabinet, you can get functionality or beauty but only a few get a beautiful mixture of both. Display cabinets tend to be very expensive with the more you expect of your cabinet in regards of design, manufacturer and materials used. However, a good cabinet will last a lifetime of use and change the aspect of the area its placed in.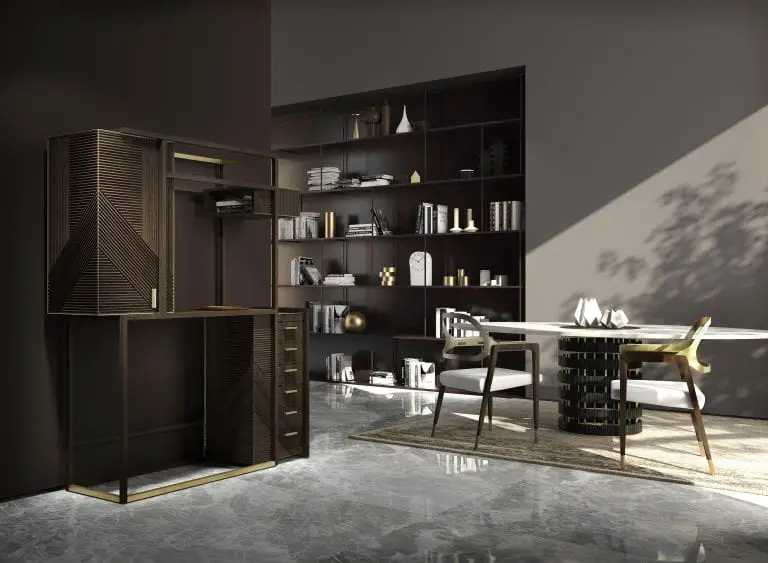 Rossato always works with renowned designers to create the most ambitious creative projects. This also happened with Hangar Design Group for the creation of this stunning design. For this piece, the manufacturers will produce the designs in pretty much whatever material you would like, including gold insertions upon request.
Essential characteristic is the surface finish determined by sophisticated weaving strips of oak wood, hand sanded and painted, which makes up a mosaic of great visual effect.
An art piece in itself, this oak cabinet displays objects of interest, entertains as a mini bar or conceals clutter in the entry. The surface forms are reflected in what we can describe as a playful puzzle of geometric shapes. For an authentic look, the furniture display cabinet is made of or veneered with oak and finished to emphasize the wood's natural tones. Inside the cabinet, the shelving system is customizable to accommodate large or bulky items.
Purchasing Rossato furniture means owning a unique piece as you can choose from an endless selection of materials, colors, finishes and treatments.Every piece of their furnishings are extremely versatile and customizable and you will be dealing directly with a project manager who understands your wishes and doing its best to fulfill your tastes.