In the midst of the hectic pace of a day, where do you find your center of gravity?  Why not anchor yourself in the heart of your home where you start and end your day with a meal?  The Domus Kitchen by Val Design has the calming, sedate feel that will always bring you down to earth and back home.  The simple, cube-like basics of this kitchen echo a little bit of mid-century retro in their attitude.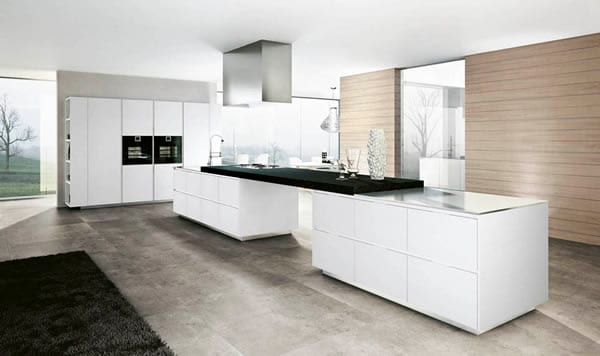 Build your shelving system to accommodate open and closed storage space.  The combination of modular, rectangular cabinets and geometric lines of shelving turns a blank wall into a contemporary piece of three-dimensional installation art.  In the Domus Kitchen – Val Design spared no effort to bring you a definitively stylish way to unwind in your own kitchen. The central island with a stovetop features a convenient, wraparound bar that extends right into a floating tabletop for maximum seating.
The large, unobstructed workspace is perfect for preparing and enjoying a meal without feeling cramped of cluttered.  The integrated sink and smooth-faced cabinets make sure all the amenities are right at your fingertips when you need them. The workflow will make you feel comfortable and at home in a minute, and the design has all the casual chic you need to help you relax and enjoy the meals shared there.
Whether you're starting your day with a strong espresso or finishing it with a glass of wine, why not do it in the style and comfort of the Domus Kitchen?