Designer Beds Worth Looking For a Bargain
Otto Low Modern Platform Bed by Gervasoni of Italy
Gervasoni SPA of Italy has a long history of furniture production dating back to 1882 but the Otto platform bed is definitely from their more recent releases.
Gervasoni specializes is furniture production from exotic materials left in their natural state characterized by the variations in surface textures, coarseness, roughness and unevenness.
The Otto low modern platform bed from designer Paola Navone comprises a plywood frame with stained pressed bamboo lamination with adjustable slat supports.
Stunning Bed Design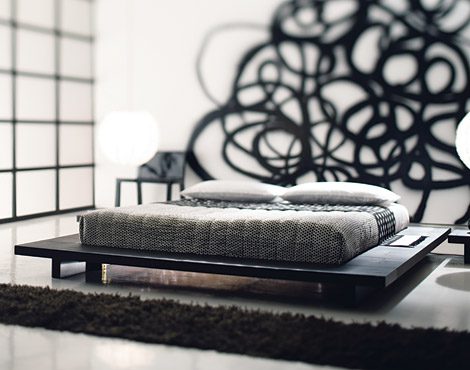 Contemporary Beds by Karim Rashid
I always look forward to design news on contemporary beds. Karim Rashid is a household name in the design world so these models should not come as a shock to any design fans.
Bright colors are a theme in these contemporary beds along with the technology such as iPod docking stations. The product names are Shell, Combi, and Glow. They made the designs for Hollandia International.
My favorite Karim Rashid design still is "Sofa One".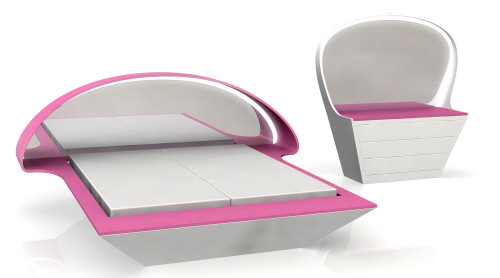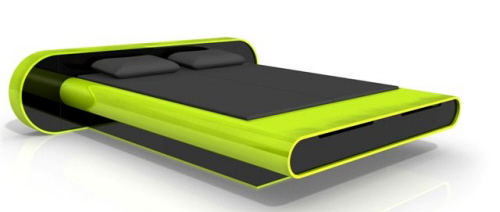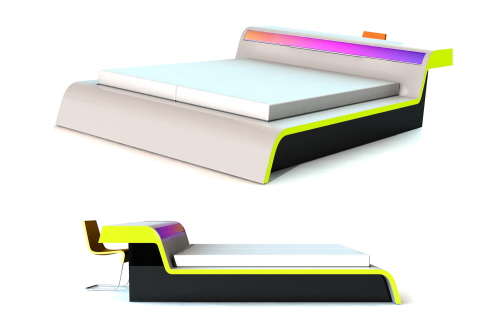 Carlos Tiscar's Nook Single Bed
Nook single bed is a structure with a thousand uses besides sleep. Product designer Carlos Tiscar created the Nook single beds collection for Spanish manufacturer JJP and dedicated his design to the late Bruno Munari's 1971 'Abitacolo' bed.
Starting with the traditional four-poster bed, the designer creates a structure that serves much more than hanging curtains.

Carlos Tiscar is a Spanish designer whose expertise is home, office and contract furniture, and urban furniture and homeware better know internationally as the former vice-president of the Designers of the Valencian Community Association.
Integrating all the elements of a room in a single design, Nook single bed is a composition intended for sleeping, reading, writing, watching TV or even use as a storage solution for you bicycle.
Tiscar reveals a contemporary interpretation of the well-known canopy bed, offering a space of seclusion and tranquility to its young customers.
Nook offers small and useful optional accessories to cover a wide range of youth's needs. The famous all-in-one system features among others built-in LED lighting, cloth-hanging accessories, an integrated desktop and even a specific module for video games.
And the options don't stop here, Nook comes in a wide variety of fabrics and twenty colors for the melamine surfaces to choose from or even mix and match, helping customers create a unique piece adapted to their needs.
The other attractive feature of this collection, is the single hex key needed to assemble the entire bed as well as its accessories, making it differentiate from traditional furniture and more attractive for inexperienced buyers.
Nook is a comfortable bed that gained international attention in less than a year from its launch. A piece that will become timeless thanks to its ability to transform, be robust, multi functional, unisex and even accommodate another guest if needed.

Samsara Low Profile Bed by Designer Cuno Frommherz
A low profile bed such as Samsara pictured here creates a room design with livable furniture and yet maintains a certain amount of openness breathing fresh air into a design.
Designer Cuno Frommherz created samsara for Cassina. Cuno lives in Switzerland and began as a self-taught carpenter. In 1992 he set out as his own designer and furniture maker.
They showcased this low profile bed at the Milan Furniture Fair in 2005. Samsara features a removable fabric cover atop a wooden frame set on a chrome metal base.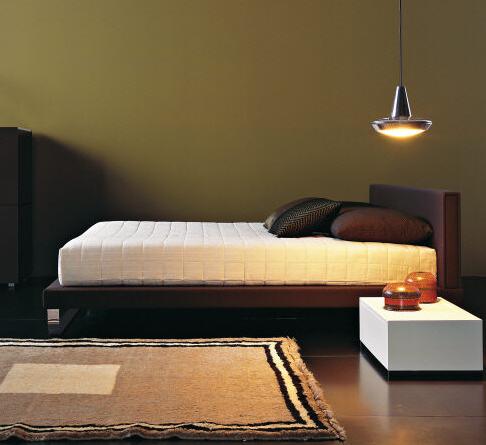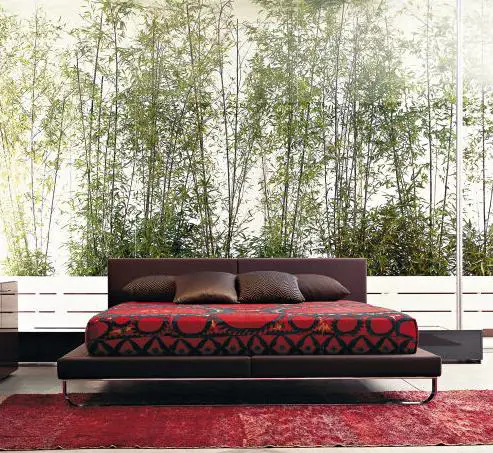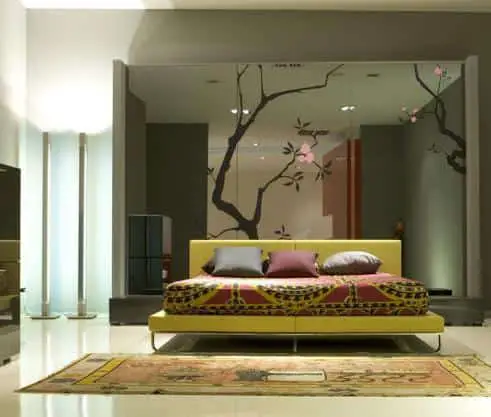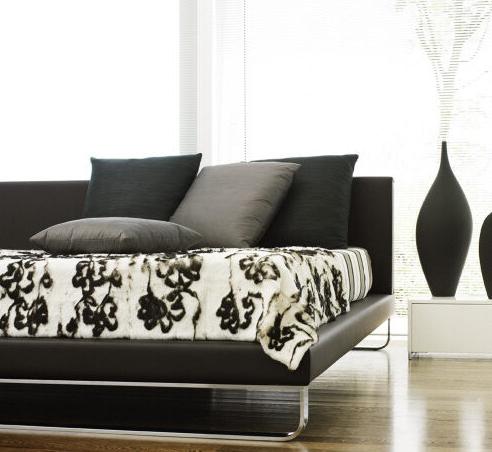 Bed with wooden bed frame and headboard, upholstered with removable fabric covering.

Removable load-bearing structure in light gray painted steel capable of supporting:
two mattress support surfaces in perforated wood covered in black fabric (in this case we recommend the use of spring mattresses which guarantee greater internal ventilation of its components) or two sommiers. 
The bases are made of a curved, bright chromed metal strip. The bed can be equipped with bedside tables with two drawers (one inside the other), in white or gray glossy lacquered wood. For this model, the use of leather and the special LOOKLIKE coating is also foreseen. 
This material has a particularly pleasant appearance, significant resistance and durability over time and allows for quick and easy maintenance.
Convertible Sofa Beds from Saba Italia
We have reviewed some really cool sofa sleepers and convertible couches in the past few years and many of them are for the spare room to be hidden away as "guest only" furniture.
The Scoop Round and Quad sofa sleeper beds from Saba Italia easily stay uniform and ready for nighttime thanks to a removable hook system. One side of the Scoop Convertible Sofa Beds has fixed legs and one has lockable wheels so lifting is unnecessary, just re-position and get ready for bed.
Designer Guido Rosati made they included sure comfort with a wooden frame surrounded by several densities of polyurethane foam, velfodera, and polyester fibers.
Drexel Heritage Furniture Line
The Hathaway chair and ottoman set by Drexel Heritage is an American classic. This traditional club chair is elegant and refined while not appearing too bulky for patrons concerned about one furniture piece dominating the room.
Also available in nail trim if that better meets your decorative tastes. I immediately draw the eyes to the unique curvature of the bottom of the chair and the ottoman.
The two pieces compliment one another as the appearance of the curves somehow fit together providing for a stylistic and elegant appeal. The curves provide a flowing appearance to the pieces as they enter and exit one's field of vision.
Taller wooden legs also make a softer statement bolstering the feeling that this is not a dominating piece and belongs in the room. They cover this chair in traditional dark brown leather optimum for matching other colors in the room.
Flowing geometry is difficult to make work in interior design, but the Hathaway by Drexel Heritage has accomplished this tastefully.