Stylish Dog Bed & Dog Accessories For Your Dog
Japanese based Nendo which is known for some really outstanding and creative designs for personal fashion, commercial interior design projects, visual installations and furniture, apparently included something for man's best friend in the mix.
Their philosophy is what it should be in this business – to give people a small " ! " moment and the collection which dates back to 2003 has no shortage of cool things to look at for hours. Surely some of the most impactful things are the simple and easy designs and the Cubic Pet Goods collection for this year is a fine example of that.
With its three stage fold out convertible options your pet will feel like you did when you first rode in that new car and threw down the top, what a nice feeling! A nice looking and unusual dog bed.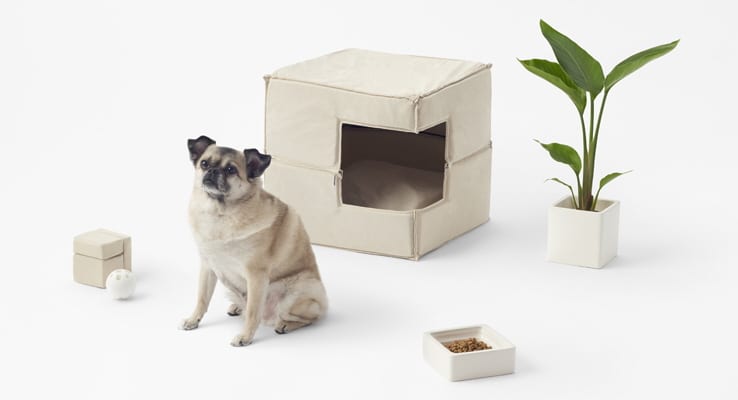 The collection was inspired by the overwhelming roundness in the world of our pet accessories from balls, food bowls and of course the standard round pet dog beds we see at the big box supply stores.
This doesn't mean you love your pet less, it means you have not seen the Cubic Pets Goods that are made to work within a typical home environments interior spaces with walls, floors, ceilings, windows and furniture designed mostly in a linear manner.
With this issue in mind, pet products are designed with a variety of functions, focusing on the compatibility with existing interior elements.
Here is the entire collection which does feature the round ball we previously mentioned however this one has square holes within to keep in theme.  The square shaped food bowl features contour lines inside that can be used to easily gauge the amount of food or water the dog has and is available in three sizes like dogs often are.
We really like the unfolding toy that is like a reusable bone this could keep them busy for a while.