CrossART From Presotto
CrossART is a customizable and versatile collection that interprets the new trends of the living room. Precious materials, exclusive finishes and refined lines transform the CrossART into a furniture collection for connoisseurs.
The modular furniture collection is characterized by suspended or ground-based compositions which are modified in size to contain the I-modulART and InclinArt wall units also part of the Presotto line of modular storage furniture. The original addition of slanting spacers have a structural function but also give a new dynamic thanks to the alignment with sliding doors creating new perspectives and volumes.

The good thing about CrossART is that you can use it in any way and in any type of living room. Whether you're looking for a small bookshelf or a large composition to contain your whole library, Presotto's design versatility will easily adapt to your needs and conditions.
Use it to create a traditional looking bookshelf or you can mount it to the wall in creative ways. These furniture items are available in a variety of sizes to match any big or small living room needs. Being also available in a wide variety of finishes like, matte and lacquered woods, various material textures, glossy or matte colors, makes the CrossART furniture collection a design to match any taste and fit perfectly in any space.
A simple idea that combines the storage space desire with a contemporary living room design and becomes an element of attraction of the environment where it is installed.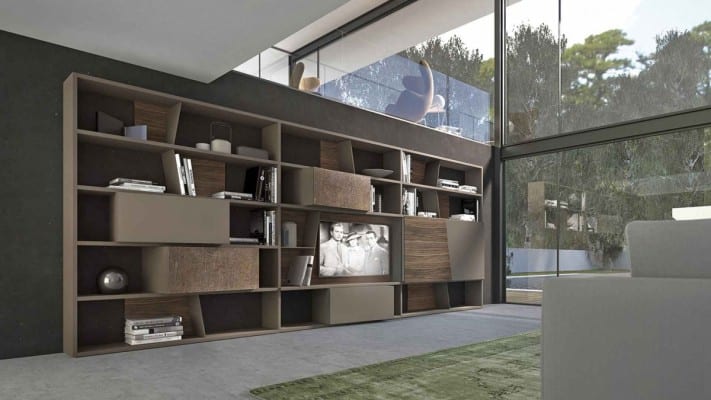 Presotto is one of Italy's leading manufacturers of premium, ultra-modern bedrooms and extraordinary, exclusively-designed living room solutions, with over 60 years of excellence in manufacturing and design.
Presotto's products are often recognized for the unusual finishes and combinations used, like stone finishes, wide selection of glossy and matte lacquers as well as textured woods and printed, magnetic covers.