It's a simple fact: "ceiling fan" and "chic modern design" aren't typically uttered in the same sentence.  Curiously, though, we've managed to round up a decent collection of up-to-the-moment, truly modern ceiling fans worth at least a cursory glance.  Gone, apparently, are the days of oversized fake palm fronds and overwrought, multi-bulb lamps emerging from tacky, ornately affected hunks of wood and metal.  Today's curation in particular is actually very aerodynamic, with a streamlined jet propeller aesthetic applied to most of the elements we've pulled together.  We even uncovered a feat of engineering in the case of the two-blade offering from breakout company Fanimation; it doesn't even look like it should work, it's so simple and symmetrical.  And that's the charm of today's roundup: there's nothing fussy — only cool, in more ways than one.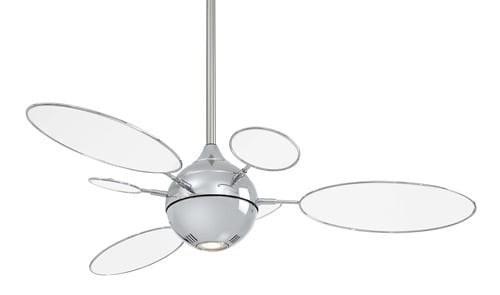 We're an affiliate
We hope you like our recommendations! Just so you know, we may collect a share of sales or other compensation from the links on this page. Thank you for using our links, it is much appreciated.
Several selections found at Fanimation.