We're an affiliate
We hope you like our recommendations! Just so you know, we may collect a share of sales or other compensation from the links on this page. Thank you for using our links, it is much appreciated.
Your living room is an important, central part to your home and there are a lot of elements that are involved in making the perfect space. From comfort to style, you need everything from the right, comfy couch to an entertainment center to fit all of your needs. But, if your room is big enough, you may need or want a sofa table to help transform the theme. Let's take a look at some contemporary sofa tables and get inspired!
This table has a bit of vacation vibes built right in. With its traditional and cozy appeal, this piece will fit right into a variety of different living room themes and styles. Use it to store necessities that get lost like remote controls and reading materials and use the rest of it for decor purposes.
This piece has both traditional value and contemporary appeal. It's sophisticated, a bit masculine and can make a statement in any nook or cranny you place it in. We love the warm dark cherry finish set off with its glass top.
A mix of wood and metal, making for a more interesting design, this Bruno sofa table fits nicely behind your couch or in your hallway corner. Then you can get creative with styling and decorating the piece while offsetting its deep hues.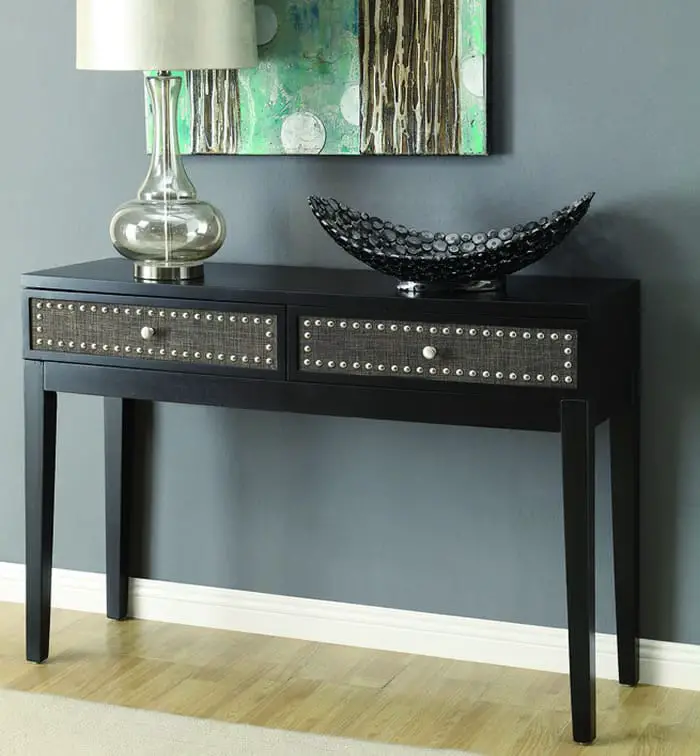 We are loving this easy and chic contemporary sofa table. The dark tone and silver stud accents make it the perfect piece to fit inside smaller living rooms, apartment or even in a dorm room. It's got an edgy, hipster style too that will fit inside most home themes and styles.
This Denmark has more of a contemporary, zen style. As its captain states, its designed for an urban living space with a more sleek vision. Don't clutter it too much or it'll take away from the clean and suave appeal. Of course, this natural brown color will fit in with a variety of color palettes as well.
This is an entire set of tables that work for your living room. But the sofa table in the back is what we're focusing on. We love its easy nature and how it'll fit easily behind your family's couch to hold the remote controls to the TV and the game consoles too. It's traditional and homey, with a definite, artistic style we love.
Take a good look at the details of this hand-painted, Powell masterpiece. It would fit nicely into a home office or formal living space that can encompass an old-age spirit with ease. We love the curved legs and historical ambiance.
Another traditional and easy piece to place inside your house, no matter the theme, this small black table is super functional. It won't take away from the rest of your space or distract from its style, but it'll still serve its purpose for organizing and sprucing.
At first glance, this too, looks like a traditional furniture piece, but take a closer look. The curved legs and slender body make this a contemporary and chic choice for your living room. The brown keeps a homey vibe but the lines help to evoke a fashion-forward nature.
This style is small but mighty. Again, it adds organization to busy family spaces with easy decor value. It's simple in structure making it more fun to creativity stack, display and decorate with. You may even get really creative and paint it a lively color!
We love mixed mediums, which is why this table made from bother weathered pine and steel makes such an impact on us. Whether you want to creative a rustic space with a masculine vibe or a contemporary living room with a hipster appeal, this is the piece to use to make it happen. Then have fun styling it!
The bit of color included in this piece makes for a more fun and living celebration. Not every furniture piece has to be a "traditional" color or style, instead you can use lighter pieces to create a more casual and lighter feel.
We are loving the shape of this design. It's quite artistic, matched with a wooden foundation, making it a great fit for almost any home or living room around. Dress it up with display pieces and home accents to provide your own flair.