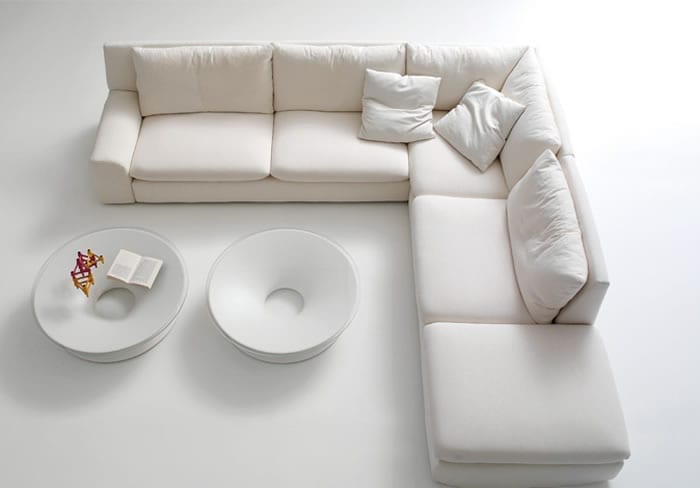 Stylish Coffee Table Designs
A coffee table is a crucial piece of furniture in every living rooms of our home, but it's once in a blue moon used to serve formal coffee from. Those days were gone when in afternoon get-togethers coffee and biscuits were served, complete with linen tablecloths and silver spoons and fine china.
Today, a coffee table is a strapping piece of furniture designed to withstand the antics of children and adults alike. For many households, the coffee table is the place to store backpacks and textbooks and homework. It's a place to spread out the newspaper or to complete crossword puzzles. It's a place to gather around, either on chairs or on the floor.
Are you having troubles in finding best coffee table of your choice for you? Have you looked in every furniture store possible and just can't seem to find the perfect coffee table? Well, you have look no more; there is a solution for you to find your perfect coffee table.
It's time to take an ordinary, everyday piece of furniture and think outside-the-box. Instead of a traditional espresso coffee table with no bit of extra personality or pizzazz, why not look into transforming your living room by using something more fashion-forward in style?
From artistic visions to clean, modern edges, we've compiled a inspiring list of 15 contemporary coffee table designs?
Round Coffee Table Design
At first glance, you'd be surprised that these curved, reflective pieces were just lacquered plastic coffee table designs. With a glass table top, these trendy tables are versatile for a variety of rooms and can easily be dressed up, dressed down or accented with fun colors, neutral palettes or prints all round.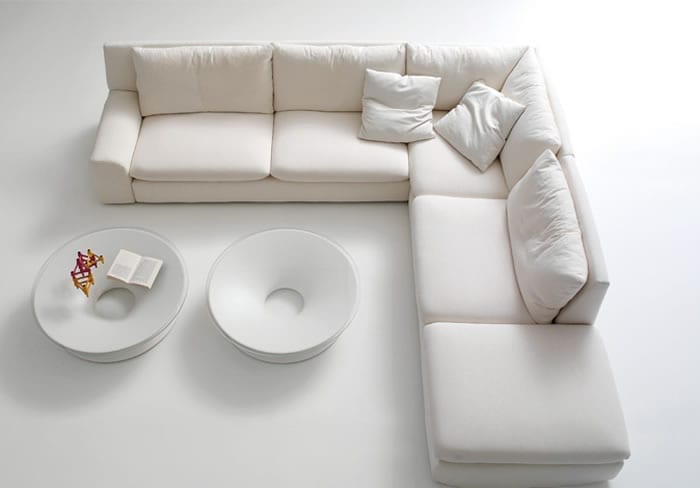 Square Black Glass Coffee Table
There's nothing chicer or more modern than this dark grey, glass modern table design. Curved accents, clean lines and simple structure, this piece blends well but also makes an easy fashion-forward focal piece for any room, from a living area to home office. The neutral palette, although dark and bold, makes for easy decorating.
Stunning White Round Coffee Table
Simple and sweet, this short but mighty coffee table has elegant, sophisticated and a youthful spirit. We love the sheen and the shape of this piece and we also love how it would fit right into a smaller dorm, modern studio apartment or a family's home with fashion-forward vision.
Scented Cedar Wood Coffee Tables
If you're looking for something unique but still traditional and organic in design, why not try out these small coffee tables made of cedar wood. They have an iron base for a multi material, industrial feel but they also evoke a sense of ease and wonder with the whole "tree stump" vibe.
We love the mix of this room with its sleek foundation and traditional additions.
Transparent Triple Glass Coffee Tables
This design has a fun and futuristic feel about it, don't you think? Just as the captain states, they make this piece of 12 mm-thick transparent glass surfaces at different heights, giving it a forward-thinking and interesting first glance. There's a lot of top space for decorating too, which is definitely a benefit!
Fused Glass Stainless Steel Coffee Table
Not all styles have to be functional only. This piece is more like a beautiful work of art. It has adjustable feet and a stainless steel fused design that will set off any room or theme that you're envisioning. It will create a focal point with ease and be quite the talk of the town on its own without an accents.
Brasilia Coffee Table
Sweet and simple, this Brasilia wooden coffee table design comes in two sizes. It has a definite traditional, homey feel but the structure will never sway from those that love modern edges and contemporary style. This piece fits in with comfortable palettes, but also keeps a unique sense about the room.
Matt Black Coffee Table
Similar in shape as our first pair on the list, these black wood pieces work well within any space that needs a bit of modern, masculine flair. One piece would work in a smaller space, but we also love the pair displayed in a roomy living area or bonus room too.
Patched Wood Coffee Bench
Not only does this style work as a artistic piece for your home, but it can act as a bench as well depending on your needs! It's made of a patchwork of raw pieces of wood that not only makes for a natural, organic spirit but the design and shape are still very modern making for a unique and interesting look. A beautiful wooden coffee table design.
Bench or low service table created from a patchwork of raw pieces of wood – both old and new – assembled based on a computer-generated design that is then sent to a digitally-controlled machine that cuts the forms in three dimensions.
Rectangular Glass Swivel Coffee Table
This piece is breath taking, isn't it? A simple rectangular piece with a swivelled glass top reminiscent of flowing wind, it's functional and stylish too. Its name being "Wind" makes complete sense because of its shape.
We wouldn't recommend having this table around small kiddos, with the sharp edges, but it sure would look great in a home with contemporary decor.
Crazy Cut Mirror Coffee Table
It's a coffee table, it's a mirror and it's shape looks like a bigger version of a pouf! It's fun, youthful and super trendy and it belongs to an entire collection of playful designs that includes a matching chair too, seen in the room above.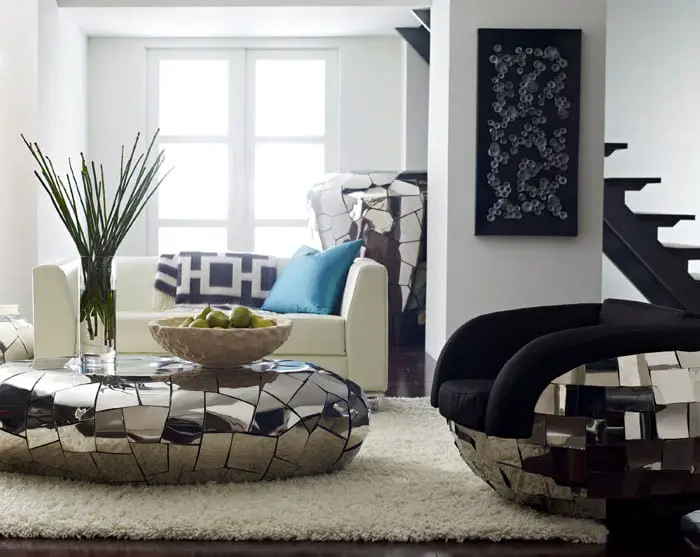 Linden Wood And Glass Coffee Table
This Dali has a bit of an Indian and Asian spirit but the black legs and glass table top make it a beautiful, contemporary piece as well. Don't worry about following the usual interior design rules and fit this piece in wherever you have the space as it makes for such a fun way to decorate.
Italian Black Coffee Table
An Italian black classic modern coffee table piece, this coffee table has a traditional design made with modern spirit. The black and metal combination is timeless but still very contemporary and it's also a really versatile style that fits within a variety of themes and color schemes. We really love it paired with this heather gray, shaggy rug for a mix of fun textures.
Bent Plywood And Glass Coffee Table
This piece has to be my favorite of the entire selection. It's so artistic and beautiful made that it truly looks like it could be a sculpture sitting in a museum waiting to be admired. The glass top is timeless but those white, Geo-designed legs are fun and trans formative.
Native American Hide Coffee Table
These pieces don't even look like coffee tables do they? Although they function as such, with fun organizational storage right atop, they're create using whole, native-American hides. It's an interesting design, an interesting take on creation and also an interesting style.
Related Articles: