Beautiful Cassina Furniture
Cassina furniture of Italy proves once again that less is more. The round La Rotonda dining table from designer Mario Bellini has a minimal and elegant beauty with optional wood or glass tops and a variety of wood finishes to choose from.
The simple nature of the table gives the owner a wide variety of options easily combining La Rotonda with wood or leather dining chairs. The Cassina collection is divided into the "contemporanei" series with all original modern works featuring some of today's leading designers, and the "Cassina I Maestri" collection which includes some of the most important furniture created by leading figures in the Modern Movement, pieces which have since become landmarks in the evolution of contemporary design.
All Image rights are exclusive to Cassina.com
Cassina's La Rotonda Dining Table
When two name like Cassina and Jean Marie Massaud team up the results are bound to be impressive, and more than likely very contemporary. The Aspen sofas work well together as a long sleek single seating surface, or as individual chaise lounges.
Cassina's Aspen collection includes an end table suspended on a center cylinder that blends into the side of the sofa in a very smooth transition. The sofa comes in 180 and 260cm lengths and delicately floats on two feet that remind me of ice skate blades.
Here Aspen is combined with another Massaud design, the Auklund lounge chair and ottoman shown in black leather, for a most stunning modern statement.
Experience Smooth Slopes with Casssina's Aspen Sofa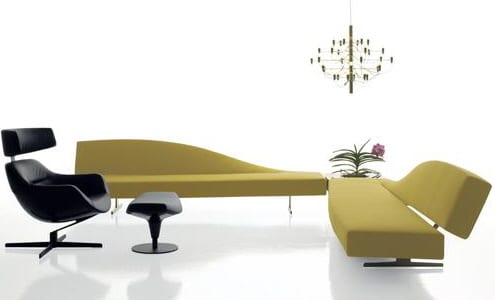 Fast-forward to the future of comfort in ultra sleek Cassina's Tokyo Outdoor chaise lounge.  Leading the cutting edge in design and functionality, this chaise is created to bring dramatic flair to your outdoor living.
The unexpected form catches the eye from across the pool and keeps your attention as you study the twelve skeletal bands that form the first impression. Don't let the weightless appearance of this chaise lounge fool you:  exotic solid woods like teak, beech, or bamboo are used for each band and the sturdy crossbeam base.
Visually open but structurally sound, the Tokyo Outdoor chaise lounge is sure to attract you and your guests all summer long.
A Relaxing Summer in Cassina's Tokyo Chaise Lounge
Even in the most humid of summer climates, the Tokyo Outdoor chaise lounge will perform as beautifully as it looks.  Each upholstered cushion is water- and stain-resistant thanks to the innovative Glen Raven formula, which uses a modern PVC-coated polyester yarn that is guaranteed to be mold-resistant and ISO 9001 certified. All five of the color choices are engineered with the same method for long-lasting use.
Tough upholstery coupled with the open design ensures that humidity and heat won't harm your new style statement.  This chaise lounge is a lightweight only to the eye; you can relax with confidence in the quality of Cassina. 
When it's finally time to welcome winter, each lounge comes with its own waterproof cover to protect it from the elements. When you envision your summer, where do you see the Tokyo Outdoor chaise in your home?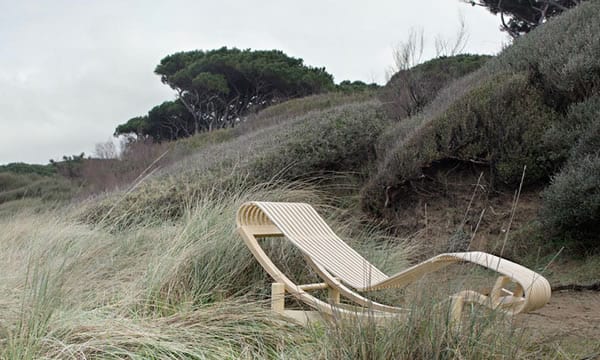 Pure Pleasure: 837 Canapo Rocking Chaise by Cassina
Crafted for the famed Italian furniture house Cassina by Franco Albini, the 837 Canapo Rocking Chaise is elegant in every way. It clearly establishes Cassina as a Mecca for developing authentic products created through a perfect blend of traditional artisanship and novel technology. It has a lovely silhouette that beckons users to sit and relax.
837 Canapo Rocking Chaise by Cassina has a frame sculpted out of solid ash wood that gives it solidity and sturdiness. It is available in natural, slate, or mahogany stained walnut finishes. It has a lot to offer in terms of aesthetics.
Its supporting fabric is made out of ecru and fastened to its frame with cords. The cords are sewn beautifully to display a graphic motif on the sides. They add a traditional touch to the otherwise contemporary chaise.
To make the piece extra comfy, designer Franco Albini has added polyurethane cushions and a headrest. These come in either fabric or leather. Canapo is still comfortable even when used without cushions. It is designed to perfectly fit the contours of the user's body.
The rocking chaise dons flawless ergonomics and stands out in any room or setting. Its vibrant red hue makes is a perfect focal point.
Cassina's 837 Canapo Rocking Chaise offers the ultimate relaxing experience. Its curvilinear silhouette echoes peacefulness, composure, and leisure. It is the perfect piece for everyone who loves to relax and pamper themselves.
Want to relax and put your feet up? Why not get the Canapo Rocking Chaise?
348 Notturno a New York Sofa By Cassina
Its not just Woody Allen or Carrie Bradshaw from Sex And The City that have paid eloquent tributes to the Big Apple. Check out the 348 Notturno a New York Sofa which is Gaetano Pesce's way of paying homage to the "City That Never Sleeps".
The new sofa for Cassina has been inspired by the breath-taking cityscape of New York by employing "a special fabric processed to resemble a tapestry, a sophisticated weaving technique used to produce 14,000 warp and weft stitches, generating extremely high definition images."
The sofa is made up of different components assembled together which is fitting since the city's skyline is made up of independent buildings that somehow stand congruently and proudly.
Tufted Comfort: 241 Privé Lounge by Cassina USA
Formal and dignified in its design, the 241 Privé lounge by Cassina USA is a must-have for the modern homeowner. The collection is made up of sofas, armchairs, and island units of different sizes.
The upholstered furniture pieces provide a variety of solutions. They showcase an elegant, unique design that is indicative of the originality and superior quality that has made Cassina USA the leader in seating solutions. The company is known for its durable and beautiful furniture and this collection is the essence of that.
Sturdily built and fashionably designed, the 241 Privé lounge by Cassina USA is all about elegance and superior comfort. The main structure and legs are made from polished aluminum. Lovely straps adorn a section of the legs giving the furniture pieces a unique look.
The seats are supported by belts and upholstered in CFC-free polyurethane foam in different densities. The armrests and backrests have a steel structure and are padded with polyester wadding and polyurethane foam.
Privé has horizontal armrests which function as supports or tops that can be adjusted or fixed in position. The backrest cushions are removable and have removable covers. They have feather stuffing and come with black or white leather side strips.
When looking for seats that allow you to sit down, stretch out, or curl up, get Privé. The upholstered seats make the collection the ultimate seating solution while the clean lines keep it stylishly simple.
Philipe Starck has designed Privé for relaxation and it excellently serves that purpose. Can you picture the 241 Privé lounge in your contemporary home?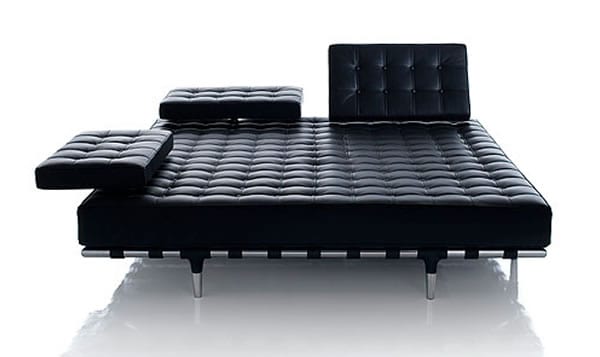 The Vanessa Bed by Cassina
Architect and designer Tobia Scarpa, acclaimed for creating masterpieces, has yet again surpassed all expectations with his brand new creation, the Vanessa Bed. He designed the piece for Cassina, an Italian company specialized in creating high-end furniture.
The Vanessa Bed by Cassina has a metal frame molded in a sleek, contemporary style to form a durable, solid, and sturdy base. The metal follows a straight geometric pattern to form the headboard and footrest too.
Vanessa is finished in lacquer and is available in three colors: China red, black, and white. The bed comes in both single and double compositions. Tobia Scarpa wanted to design a piece that was unlike any other and he achieved this with Vanessa.
The design has stunning aesthetics accentuated by well-defined proportions and perfect ergonomics. It gives users a pleasurable experience. Its ultramodern, industrial silhouette is best suited for spaces designed with a contemporary flair.
However, it also looks good with traditional decor. The plain, simple aesthetics of the bed provide a blank canvass and give you enough freedom to play and experiment with the decor of your bedroom.
After a long tiring day at work, you deserve a luxurious piece of furniture to sleep in. A comfy bed ensures you get a good night's rest. When you are well rested, you become more productive. Tobia Scarpa's Vanessa Bed will ensure you get all the rest you need. It will help you wind up your day luxuriously for a better start the next morning.