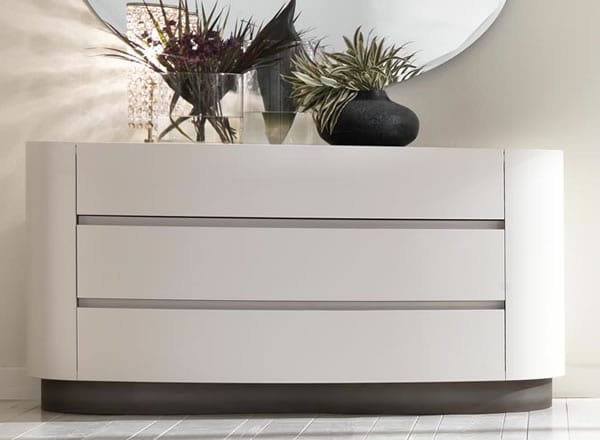 Looking for a storage unit to adorn your bedroom with modern style? Take a look at the Mirto chest of drawers by Cantori. The unit features a wooden structure, three large drawers, and a top in tinted bronze. The drawers have a retrofit soft-close system that allows them to extend fully. The unit's side and front faces are made from laser-cut bent iron. Circular feet finished in shiny nickel, silver champagne, or cream lacquer, finish the unit's look.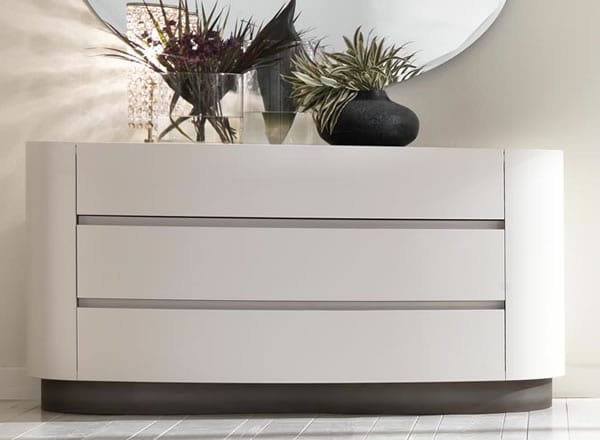 An intricately crafted piece of bedroom furniture, the Mirto chest of drawers by Cantori brings a soft, feminine silhouette to a bedroom. Its graceful design is defined by its uninterrupted curved edges. The intimacy of elaborate metalwork draped onto the front and side faces ensures that this piece won't compete for attention. Its mirrored top perfectly complements its shape expanding the visual space of any room. Easy-glide drawers ensure you get items whenever you need them. Sturdily constructed, this unit will store your items safely whether it's for a short duration or a long period. It offers sufficient storage space for all your stylish finds.
This chest of drawers is a great addition to any room in your house that needs an extra storage solution. It will help you to get rid of clutter and become organized. Its simple styling and clean lines ensure it looks great with various décor styles. Consider it for your home and discover what modern style is all about. How about giving the Mirto chest of drawers a try for your storage needs?