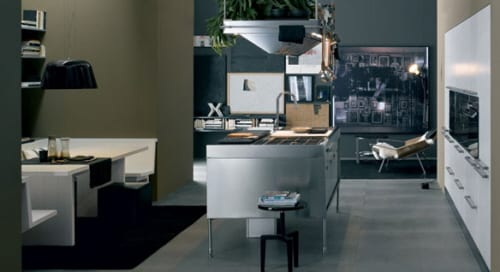 Arclinea Italian Kitchen Design and Styles
This year at Furniture Fashion we have reviewed some outstanding modern cool kitchens, cabinets, islands, and accessories that would make entertaining and cooking a very pleasurable experience.
Arclinea is among the best I have seen, and I just wanted to share a small sampling of their offerings designed by Antonio Citterio, a man who is seriously passionate about his work.
With the belief "where the kitchen is home, it is the home which revolves around the kitchen" I can see folk's radiating to these ultra cool surroundings.
Every thing you need is right there from well positioned cabinets, to cook tops, and suspended vents with lighting, all in a very clean look combining natural woods and stainless steel.
The Arclinea makes good use of over head space with very tall cabinets accessible with the sliding ladder utilizing otherwise wasted space. If the straight line is appealing, you will love these kitchens right down to the drawer pulls.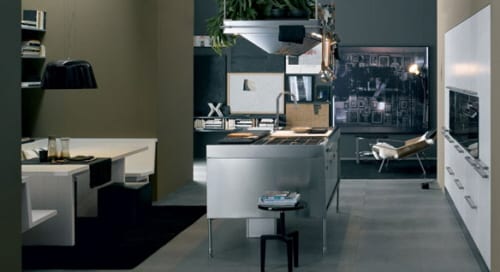 Artusi Outdoor Kitchen Design Ideas from Arclinea
Arclinea re-defines outdoor kitchen design with the Artusi Outdoor. The new Artusi Island becomes a complete unique outdoor kitchen. As a rethinking of their 1999 modular kitchen, Artusi, the new model moves cooking service and comfort to unusual areas.
The Artusi collection showed on the market back in 1999 as the idea of Antonio Citterio. As one of the most famous Italian architects and designers, Citterio is a name with Global resonance and his work has been extensively exhibited and published.
His first introduced the collection under another famous name in the industry: Arclinea, a company that fist started its wood working designs back in 1925.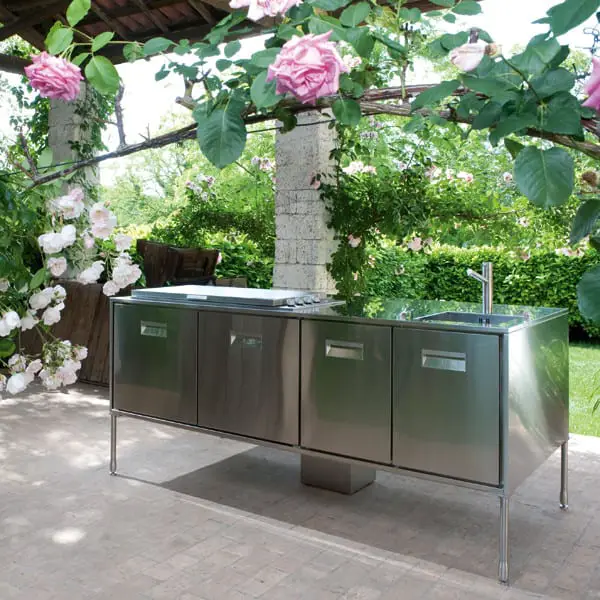 The new Artusi island project meets all the specific requirements of its kind with special solutions and materials. This is a project born out of the use of technological materials and details that enable excellent resistance to humidity and good heat insulation.
All the external areas are covered with stainless to provide highest amount of resistance to outdoor envirnonment, durability and cleanliness. Doors have a 4 cm thickness and contain inner isolating foam and magnetic seal to avoid water and insect intrusion.
Also the use of Okoume, sea plywood carcass, is simply perfect for outdoor areas. It provides a good thermic isolation.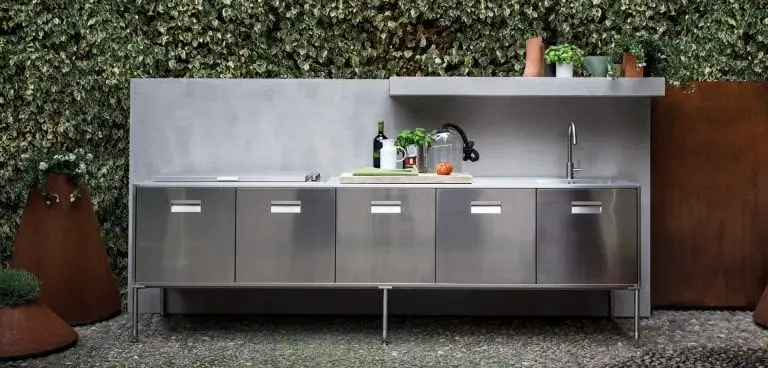 The Artusi outdoor kitchen design comes also with integrated barbeque that comes in several sizes and combinations upon request. Thermic storage space for food and drink with internal profound drawers to keep up with the food/beverage heat range. Arclinea tap in stainless gas bottle pot with secure venting.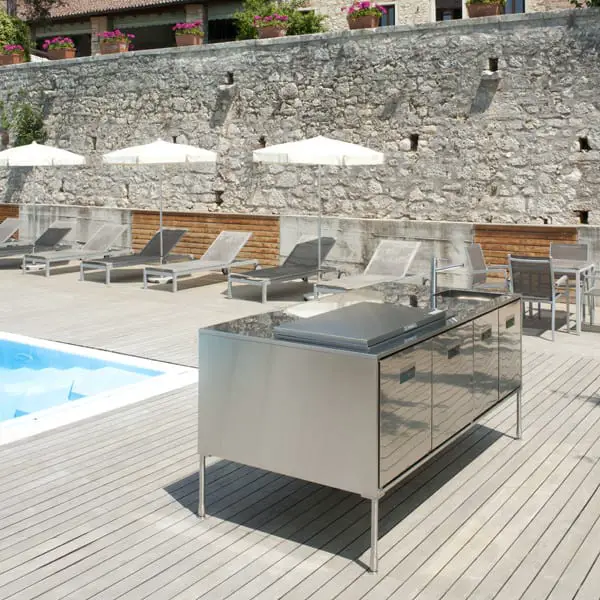 Artusi collection brings on the market the absolutely modern proposal for a kitchen similar to the restaurant ones. The metal single piece kitchen is perfect for all gardens. Compact size and substantial elements used, resulted in a kitchen full of everything you need. Design and functionality come together in a single, highly functional object.