Eva Solo Accessories
Eva Solo has been dazzling our eyes for years with their catchy and often fun decorative accessories.
Smiley Candy Dish
The new "Smiley" Candy Dish not only makes an optimistic statement, it tastefully dispenses your favorite treats and offers a place for shells and wrappers as well. Available in Red, Black, Lime, and Turquoise glass from danskdesign for 649kr or $129 US. 21CM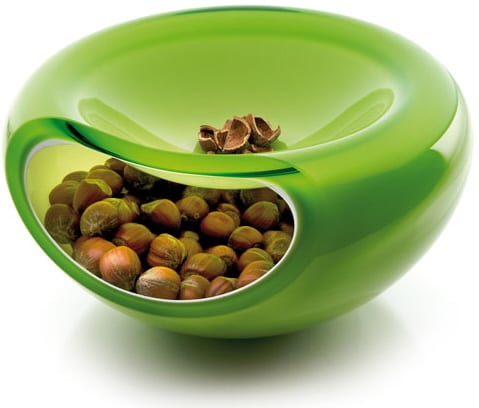 Drip Free Tea Brewer from Eva Solo
Eva Solo is a true leader in great looking and very usable home accessories like this drip free tea brewer with neoprene cover that keeps the heat in. You can make your tea two ways depending on your taste requirements. Available in Various colors Design: Claus Jensen & Henrik Holbaek Glass Stainless Steel 1 liter €78.75
The Grating Bucket From Eva Solo Makes Food Preparation Easy
Eva Solo has so many great ideas when it comes to food preparation and serving, and here is one I could have used many times myself. The Grating Bucket keeps all of the grated food inside instead of on the counter where you will inevitably have to pick it up saving time and effort along the way, not to mention it collects juice from fruits and vegetables in the bottom of the bucket.
Visit EvaSolo for a good look at some more innovative cooking utensils, serving dishes, and containers.
Eva Solo Glass Bird Feeders
Among the many clever designs of Eva Solo is the glass bird feeders pictured here. The round shape is different from most bird feeders on the market today which often depict rectangular or "house" shapes. I find that the round shape creates a delicate look while the glass provides a "birds eye view" into the private nature of these animals. Price: $60.
Shaving and Jewelry Box from Eva Solo
Eva Solo is best known for her creative accessories that store stuff and look good doing it. The "Mirror Box" is perfect for men or women that need a place for jewelry, makeup, or shaving gear and it even sports a mirror in the lid.
The Mirror Box designed by TOOLS DESIGN is made of stainless steel and plastic and is derived from the prize winning toilet waste bin also from Eva Solo. Available in two sizes. £67.00 and £73.50
Glass Tumblers by Eva Solo
The Eva Solo glass tumblers pictured here are a steady compliment for any kitchen, dining, or living room. This styling takes its inspirations from "pub glasses" that are commonly found serving up pints of ale in pubs in Ireland or Great Britain. The shape of the glass where the diameter increases as it approaches the rim is surprisingly efficient, making drinking any form of liquid very easy. I like these tumblers for their design flexibility as they can work with almost any decorating pattern. Price: "small set of 6" or "large set of 4" – $36.
Small Space Table Grill By Eva Solo
I was reminded today how much I miss summer, or at least warm weather. Cottage weather, as we like to call it. While at the cottage we are often more social than we are at home.
Not that we are anti-social at home. But the cottage is community; we visit with people we don't see all winter. We have the neighbors up and my wife's parents are often there with us. Life at the cottage is simpler and often revolves around meals, more so than our home life.
And I almost always cook! I enjoy cooking and I'll try almost anything. If there's a recipe, I'll give it a go. We very often grill our evening meal. What can I say — I enjoy grilling and it seems like the manly thing to do.
However, we do not grill at home; most often it's just my wife and I for dinner. The small space Table Grill by Eva Solo may change my home cooking habits.
The Table grill is the perfect small space grill. It's a small table grill designed with beautiful clean lines. The grill is constructed of white porcelain with a steel grill top and handle. The base is teak.
The Table Grill is just the perfect size for grilling portabellas, chicken or any small meal. This grill is definitely not for family cooking, but it's the perfect size for light fare or dinner for two.
The grills porcelain bowl makes for very efficient cooking. The charcoal is placed in a steel insert bowl. A very small portion of charcoal is all that is required. This little grill is just the thing for your small space outdoor cooking needs.
Bird Table / Bird Feeder From Eva Solo
Eva Solo features some really cool home accessories for all around the house, the "Bird Table" that also functions as a bird feeder will keep your feathered friends well fed and happy all year long.
A 5 litre glass container which is filled with bird seed keeps the food dry until it is taken so there is always something to eat for the birds. Price: £95.00