Fast-forward to the future of comfort in ultra sleek Cassina's Tokyo Outdoor chaise lounge.  Leading the cutting edge in design and functionality, this chaise is created to bring dramatic flair to your outdoor living.  The unexpected form catches the eye from across the pool and keeps your attention as you study the twelve skeletal bands that form the first impression. Don't let the weightless appearance of this chaise lounge fool you:  exotic solid woods like teak, beech, or bamboo are used for each band and the sturdy crossbeam base.  Visually open but structurally sound, the Tokyo Outdoor chaise lounge is sure to attract you and your guests all summer long.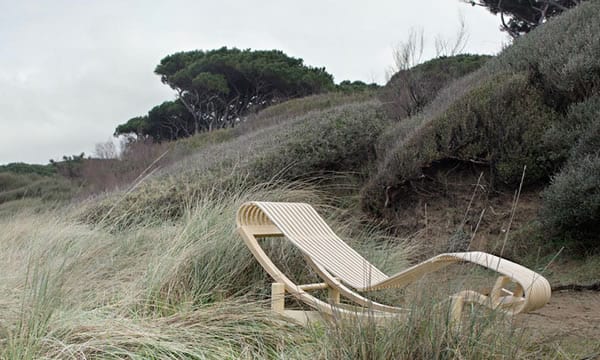 Even in the most humid of summer climates, the Tokyo Outdoor chaise lounge will perform as beautifully as it looks.  Each upholstered cushion is water- and stain-resistant thanks to the innovative Glen Raven formula, which uses a modern PVC-coated polyester yarn that is guaranteed to be mold-resistant and ISO 9001 certified.  All five of the color choices are engineered with the same method for long-lasting use.
Tough upholstery coupled with the open design ensures that humidity and heat won't harm your new style statement.  This chaise lounge is a lightweight only to the eye; you can relax with confidence in the quality of Cassina.  When it's finally time to welcome winter, each lounge comes with its own waterproof cover to protect it from the elements.
When you envision your summer, where do you see the Tokyo Outdoor chaise in your home?