One thing holds true in culture, conversation, music and cuisine, and certainly in design too: contrast keeps things interesting. Although it's always a safe bet to invest in a single-hued couch and infuse contrasting colors into pillows and wall coverings, today's roundup of bold-patterned fabric sofas throws caution to the wind and does all the work on its own. From simple, classic tone-on-tone damask to wildly varied black-and-pastel abstract shapes, these sofas pull together visual tension in a way that requires more than a single glance. Although a few of the patterns are more subdued than the others, there's no shrinking violet among them.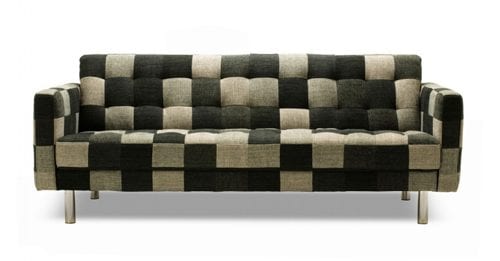 How about this piece from this famous retailer? It's actually is very good taste and would work in many homes that have more neutral colors. You can see how light colored the wall is and the carpet. I like doing something that makes a statement such as red fabric sofas or a pattern that is unique and brings attention to a living room.
Yil 989 Sofa found at Boho Furniture Gallery.