There's almost never a bad time for closet organizers to get us organized, but as the year draws to a close, we all naturally take stock of the areas in life where we could use a little cleaning up.  For lots of us, the bedroom closet is the place where stored items tend to reach their final resting place while items we use daily — clothes, shoes, belts, accessories — have to compete for space; that's where today's roundup of modern closet organizers comes in handy.  From simple free-standing wardrobes to full-scale custom walk-in closets, each gives a helping hand to those of us in need of a little organizational intervention.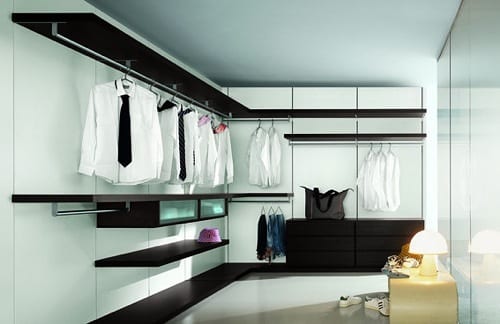 In this example it looks to be so spacious since there is very few clothes in it.  I do like the shoe rack at the bottom.  This is a nice deep wood trim that can accommodate larger shoes from a man.  The dark stain is offset very well by the white walls.
What a masterpiece this is here!  There is even space for hats behind glass to see.  The shoe storage is a little light from my perspective, but my hats off to the designer as this is very well done.
The natural wood works well for a masculine theme or for that of a woman.  There are many small compartments here which is interesting.  Some people prefer those so that they can break up a wardrobe into smaller components.  Think about what is best for you and if have larger racks would make more sense to maximize storage.
There has to be an economical choice and here is one from Ikea.  The great thing is that we all want the master suite, but we have to work to be able to afford one.  This piece can do nicely as we are working towards our dream.