Formal and dignified in its design, the 241 Privé lounge by Cassina USA is a must-have for the modern homeowner. The collection is made up of sofas, armchairs, and island units of different sizes. The upholstered furniture pieces provide a variety of solutions. They showcase an elegant, unique design that is indicative of the originality and superior quality that has made Cassina USA the leader in seating solutions. The company is known for its durable and beautiful furniture and this collection is the essence of that.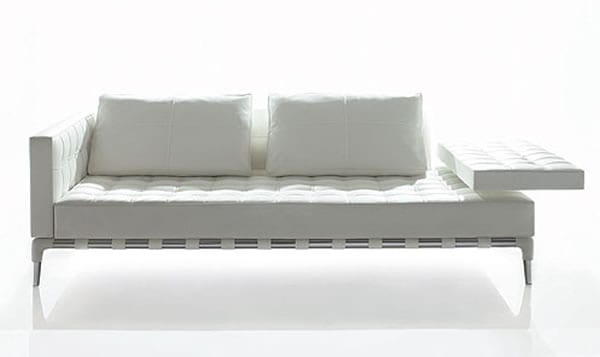 Sturdily built and fashionably designed, the 241 Privé lounge by Cassina USA is all about elegance and superior comfort. The main structure and legs are made from polished aluminum. Lovely straps adorn a section of the legs giving the furniture pieces a unique look. The seats are supported by belts and upholstered in CFC-free polyurethane foam in different densities. The armrests and backrests have a steel structure and are padded with polyester wadding and polyurethane foam. Privé has horizontal armrests which function as supports or tops that can be adjusted or fixed in position. The backrest cushions are removable and have removable covers. They have feather stuffing and come with black or white leather side strips.
When looking for seats that allow you to sit down, stretch out, or curl up, get Privé. The upholstered seats make the collection the ultimate seating solution while the clean lines keep it stylishly simple. Philipe Starck has designed Privé for relaxation and it excellently serves that purpose. Can you picture the 241 Privé lounge in your contemporary home?