We often don't think about vent hood designs as the first consideration when planning for a kitchen remodel in a home. Among the first considerations might be cabinets, appliances and countertops.
It's no secret that families want better cook surfaces allowing for simmering, higher heat BTUs and even an indoor grill. Proper venting is important though to remove harmful carcinogens, such as smoke, out of the indoor air.
So now that we see the importance, what type of selection makes sense? In this article we have twelve different looks to consider as possibilities for your home project. One of the many elements to consider is they type of material used in its construction. There are many options from stainless steel, wood, copper and even glass.
Keep in mind that there may be a decorative theme you are trying to create which would lend itself to a certain type. Color is also wonderful in how you can match or contrast it to the stove or cabinets. Shape can be interesting in how it appears as a geometrical shape in the overall layout.
Some examples you will see are vented through cabinetry whereas others are attached to the ceiling. The choice is yours to make.
The copper example here works beautifully with the stainless appliances.  It creates a nice contrast between one another.  The homemaker used a kettle on the stove to tie it together using accessories.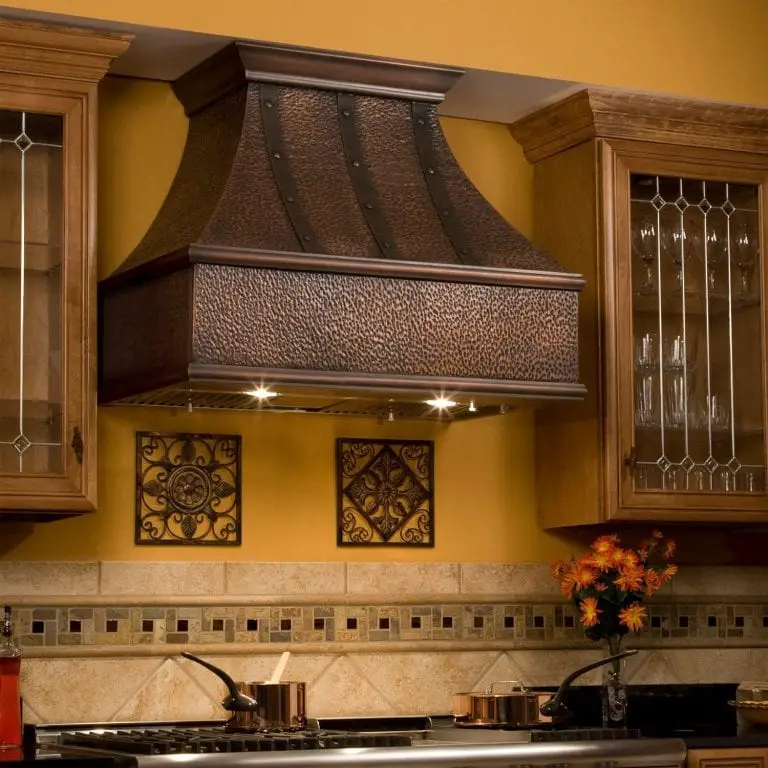 It's fine having a very long one like you see in the picture.  Even though the length is great, it does overwhelm or crowd the space while being able to cover all cooking surfaces.
Talk about an interesting shape used here.  It's breathes fresh are from the more standard shapes most commonly found and works well with the walnut colored veneer.
In this example they were able to create a wonderful look even though it is a small kitchen.  The gold is a great choice and if you look closely, you can see some gold in the handles on the oven.