We're an affiliate
We hope you like our recommendations! Just so you know, we may collect a share of sales or other compensation from the links on this page. Thank you for using our links, it is much appreciated.
Table of Contents
Cool Murphy Bed Ideas For The Whole Family
Before we dive into our inspiration spread concerning these 12 Cool Murphy Beds, you may ask yourself, what exactly are they and why would I need one?
Both answers are simple – it is a wall or sometimes even referred to as a "fold-down" bed. And, they're the best at saving space when space is in desperate need.
But they're contemporary and hip in the world of interior design as they're more than just a place of rest but a place that exudes a fun, masculine charm and organizational essence.
Whether you're looking into one for your spare bedroom or college apartment, you'd be surprised how versatile this "hideaway" idea has transformed over the years. So, let's sit back and take a look at 12 of the coolest ones we have found.
What is A Murphy Bed
A Murphy Bed is also known as a pull down bed, fold down bed or a wall bed, is a bed that is normally hinged at one end to fold vertically against the wall, or inside a closet or cabinet, and disappear out of sight to increase the range of space within a room.
They design it for small spaces where you need to get rid of items to clear room to move around or make space for other items.
Cool Murphy Beds
Image
Title
Price
Prime
Buy

Top

Bestar 107" Set Including a Queen Wall Bed and Two Storage Units

Prime

Take a Look
Atlantic Furniture Nantucket Murphy Bed Chest with Charging Station & Mattress, Queen, White

Prime

Eligible

Take a Look
Night & Day Furniture Murphy"Cube", Queen, Cherry

Prime

Eligible

Take a Look
SDS Murphy Cube Queen Cabinet Bed Fully Assembled (Stonewash)

Prime

Take a Look
Bestar Queen Wall Bed - Pur

Prime

Take a Look
Emurphybed Daily Delight Murphy Cabinet Chest Bed with Charging Station & 6" Memory Foam Mattress, Queen (Java)

Prime

Take a Look
Prices pulled from the Amazon Product Advertising API on:
Bestar 4-Piece Queen Wall Bed
Bestar 4-Piece Queen Wall Bed, Two Storage Units and Sofa Set – Versatile
COMFORTABLE: The seat cushions are 7.9" thick. All fabrics have a heavy duty backing. No nails are used, only staples.

QUALITY MATERIALS: Suspension is made with 9-gauge sinuous coils. Seat cushions are filled with non-glue cotton covered with D30 foam. 2" high plastic or chrome legs. Hardwood frame.

SPACE-SAVER: The sofa and wall bed combination is the perfect solution for making the most out of your space. It offers both a place to sit and a place to sleep in very little space. To fold out the bed, simply remove the cushions and lower the bed.

COMPATIBLE: The sofa can be used as an add-on to any of Bestar's Queen wall bed. Alternatively, it can be placed against a wall. You can choose either plastic or chrome legs.

NOTE: Pre-assembled, except the legs. Overall dimensions: 78" W x 33.5" D x 39" H. 12-month limited warranty. Must be placed against a wall bed or a wall to support the back cushions. Cannot be placed in the middle of a room since it does not have a backrest.
Prices pulled from the Amazon Product Advertising API on:
Product prices and availability are accurate as of the date/time indicated and are subject to change. Any price and availability information displayed on [relevant Amazon Site(s), as applicable] at the time of purchase will apply to the purchase of this product.
A Beautiful White Queen Murphy Bed
Bestar Queen Murphy Bed with Two Storage in White
GOOD QUALITY: Made from quality laminated particle board compliant with CARB phase 2. The set features 3 CSA-approved LED lights (120 V). Drawers on full-extension ball-bearing slides.

SPACE SAVER: Ideal for small spaces and multifunctional rooms. Assign clearance of 30-36" around open bed.

COMFORTABLE: Euroslat mattress support system increases sleeper's comfort. Accommodates most standard Queen mattresses (8-12" thick, 60-90 lb, 60" x 80"). No futons.

CONVENIENT: Thanks to dual piston system, bed folds up and down safely. Use handle to lower and pull bed towards you and flip leg down onto floor. Each storage unit features 2 fixed and 3 adjustable shelves, 1 grommet, and 2 drawers.

MADE IN NORTH AMERICA: Assembly required (3 people). Maximum weight supported is 1000 lb (including mattress). Minimum height of anchoring wall is 88.4". Mattress not included, box spring not required. Must be anchored to a wall.
Prices pulled from the Amazon Product Advertising API on:
Product prices and availability are accurate as of the date/time indicated and are subject to change. Any price and availability information displayed on [relevant Amazon Site(s), as applicable] at the time of purchase will apply to the purchase of this product.
Your clean and chic space may be in need of a space-saver. Not only does this piece have all the fine lines and clean edges of a posh, yet subdued, princess.
It's also got the classic fold-away benefits for when you need the room for entertaining purposes. We love how the style also brings together a certain amount of zen and traditionalism while keeping within the confines of a smart and fashion-forward feeling.
A Murphy Bed For The Dog
Big or small, indoor dogs need a place to rest too! And instead of an eye-sore of a black "prison-like" kennel, look into something that's not only comfy for the pooch but stylish for the home too (even if it's just in the corner).
When guests come over or you need the nook for extra holiday space, take the pup to the porch or outside for a run, while you tuck their pillowed palace away for the evening.
Here is a great little murphy bed for your dog. Fold it away when you need more space or to tidy the house.
Murphy Bed Bunk Beds
Let's be honest, unless you've got the master bedroom of the house, you'll be needing to cut some corners when it comes to bulky furniture and big accent pieces.
So, when the kid's corner room isn't allowing the space for his or her new "big" boy or girl bed, it's time to get savvy in style and organization.
Whether your twins are sharing the bedroom or your teen needs the extra space for when he has friends over, a Murphy (or twin set) has the "cool" factor and the versatility factor that parents love.
A Swing Style Murphy Bed
This office and study space is beautiful, don't you think? Well, in a blink of an eye it can turn into the chicest and inviting guest room around.
That hidden door behind the chocolate sofa can be pulled down to instantly create a soft place to rest your family or friends' heads when they stay for an evening.
This entire system is conducive to the organization and utilizing every part of a space, big or small, it does its job.
Wardrobe Murphy Bed
Folded away in the daytime for a place to entertain and relax with friends, then once the sun sets, use its turning piece wind down (literally and figuratively speaking, of course).
This system again takes that foremost wall and makes every inch available for accents and functionality. Of course, the natural lighting of the room helps to brighten and spread the room's actual space.
Electric King Size Murphy Bed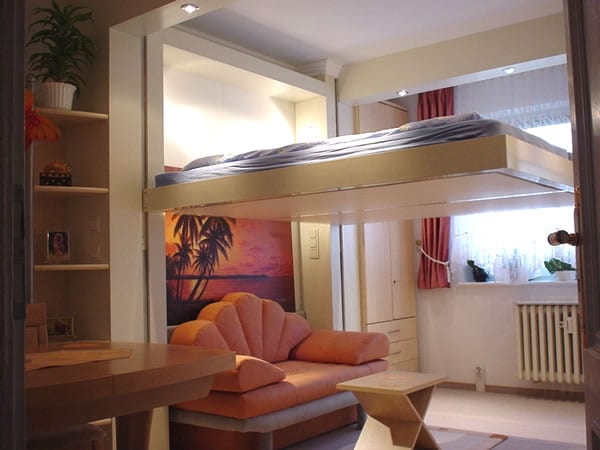 We're pretty sure it doesn't get any "cooler" or forward-thinking than this. With a click of the remote, your studio apartment can turn into a two-bedroom with ease.
A king-size bed will literally pop right out of the ceiling and welcome your guests (or yourself) with open arms. Whether you install this beauty for when you have friends over or to better serve your entertaining space on a daily basis, it's a genius plan.
Murphy Bed With Cupboards
We love the chic, womanly touch that this space gives to our round of Murphy bed picks. Of course, its sharpness and contemporary magic have us swooning.
But we also gush over the fact that this ready-to-assemble piece has a certain amount of femininity that most fold-away beds are rid of. It's a bit more delicate in design, but with all the bells and whistles intact.
Murphy Bed And Settee Design
Not only are you getting the space-saving option with this system, but you're also getting a charming sofa in the same breath. It certainly takes the saying "best of both worlds," or "have your cake and eat it too," to heart. The white and subdued camel hues also push that futuristic, modern style into the light. Unless told, we're pretty sure that no one would notice, at first glance, that there's a bed hidden inside that organizational wall system.
Which is why, this piece, won the best innovation award during the NEC Birmingham Furniture show. Again, it utilizes a big space, helping to hide clutter and chaos, while giving your guests throughout the holiday season a space to tuck in at night.
Murphy Bed And Desk
Classic and timeless office space by day and a place to sleep by night. Whether this functional design is installed in your studio apartment, making it easy to hide your personals during at-home work meetings, or turning your study into a guest room in a blink of an eye, it's another innovative and stylish way to use your home to its full advantage and full potential.
Murphy Bed And Wardrobes
What's so great about a fold-away design system that comes with most, is the amount of versatility it brings. You can hide everything inside in an organized and less chaotic way than having everything "un-stylish" laid out for the world to see.
Which is why these beds offer great help to those in smaller homes or urban living environments, it helps with their modern goals while lessening the fuss.
Cream Double Murphy Bed
A savvy room partition turned everyday lounge zone with one simple movement, this is just another genius example of innovation and design.
Tucked away throughout the day, you'll help to conquer your decor and design block and throughout the night you'll have a place to rest and enjoy or even a place for your best bud to spend the evening with you.
Notice the "shelving" that stays on display at the footboard, it's a complete style enhancer.
Murphy Bunk Beds With Desk
This twin saver is perfect for your teen's bedroom. She'll want the space to have slumber parties and do her homework in peace, without all the clutter that comes with the middle school years.
That, and it'll be quite impressive when she gets to pull it down out of the wall in front of all of her friends. Remember, there's a "cool" factor that comes with this hideaway designs that other pieces just don't have.
The City Murphy Bed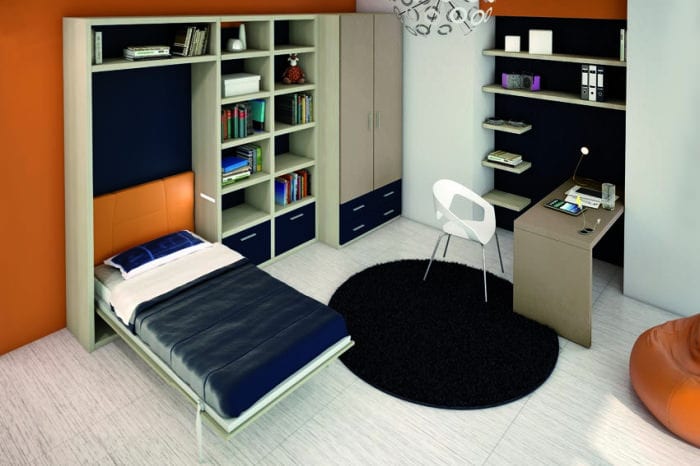 And our final choice of the day, this City 2 system has everything you need to stay stylish, alert and uncluttered. Tuck away your books and other necessities of life throughout the day when you need some extra room for school projects. There's even a small closet in this design that makes the stress of organizing a smaller room so much easier. If you enjoyed this post be sure and check out our other cool Murphy Beds here!