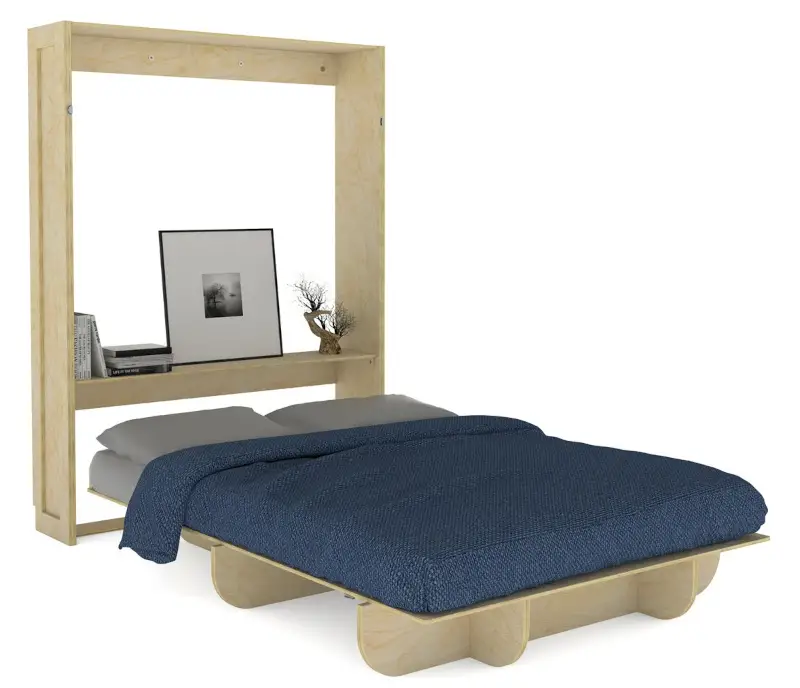 Cool Murphy Bed Ideas For The Whole Family
Before we dive into our inspiration spread concerning these 12 Cool Murphy Beds, you may ask yourself, what exactly are they and why would I need one?
Both answers are simple – it is a wall or sometimes even referred to as a "fold-down" bed. And, they're the best at saving space when space is in desperate need.
But they're contemporary and hip in the world of interior design as they're more than just a place of rest but a place that exudes a fun, masculine charm and organizational essence.
Whether you're looking into one for your spare bedroom or college apartment, you'd be surprised how versatile this "hideaway" idea has transformed over the years. So, let's sit back and take a look at 12 of the coolest ones we have found.
What is A Murphy Bed
A Murphy Bed is also known as a pull down bed, fold down bed or a wall bed, is a bed that is normally hinged at one end to fold vertically against the wall, or inside a closet or cabinet, and disappear out of sight to increase the range of space within a room. They design it for small spaces where you need to get rid of items to clear room to move around or make space for other items.
---
The Lori Wall Bed
The Lori Wall Bed is the simplest, most practical and affordable Murphy bed available anywhere. Created by the company founder in need of a bedroom but with limited space to spare (Lori Moore), this design has everything you would want from such an investment; it's stylish as well as budget-friendly.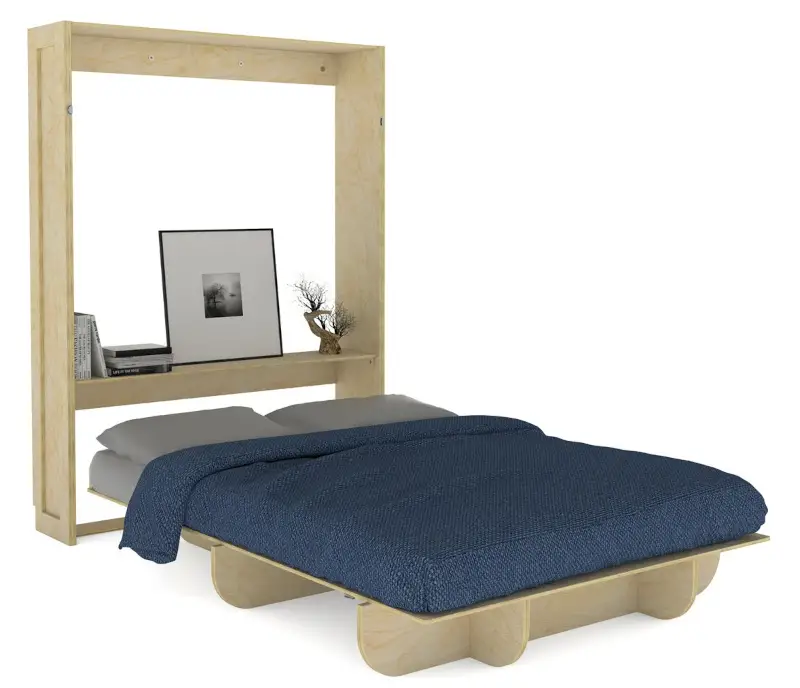 A Unique Design With NO Heavy Lifting Mechanisms
The Lori Wall Bed is a Murphy bed with a difference, designed to be easy and safe for all of your family members. The best part? It's affordable too! The Lori Wall Bed offers something that other Murphy beds don't: an option to add storage space or even another bedroom when you need it. Just imagine how nice it would feel in the morning knowing you can have some more room – without having any construction done on your home at all!
The Lori Wall Bed is a beautiful and affordable alternative to conventional bed frames. Made of 100% real wood, it will last you for generations while still fitting your needs today! It is a new type of bed that makes sleeping as comfortable and easy as it can be. It's so relaxing, you might find yourself coming back for more!
Lori Wall Beds Are Made In The USA
The Lori Wall Bed provides a high-quality, functional place for guests to stay. This bed is made from 100% real wood and has no laminate or MDF (which can be less durable). The sleek design of the furniture will make your guest room feel more like home!
Is The Lori Wall Bed Heavy To Store
Your bed is going to be fairly heavy. This isn't just any old piece of furniture; you're supporting the weight of a platform and mattress when unfolding or folding your Queen/Full sized bed, which can feel like anywhere between 60-80lbs depending on how much stuff you have inside it (while at its heaviest point). For two people, this feels more manageable with 45lbs plus half the weight in pounds for whichever side they are not holding up themselves.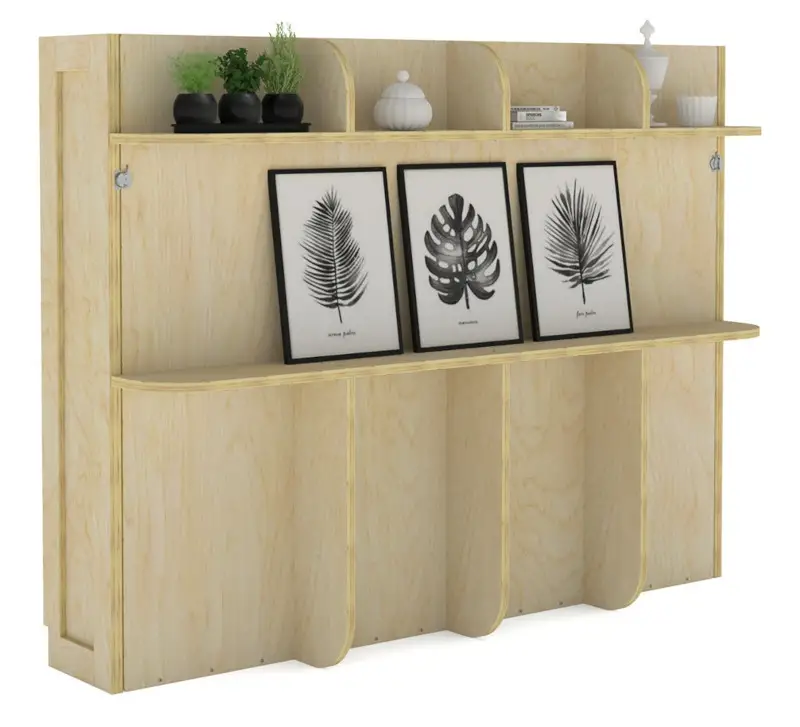 ---
Choosing A Mattress For Your Bed
If you're looking to purchase a mattress for your Lori Wall Bed, here are some things that I think should be kept in mind.
1) The maximum thickness of 12″, as this is what the bed can accommodate while still being able to close properly.
2) If it's going to be manually lifted and lowered (as opposed to an electric motor), then make sure not only that it has light weight but also select one with lower height so as not draw unnecessary attention when lifting or lowering
There are different types of mattress available for the Lori Wall Bed. One type is a conventional inner spring and latex foam mattresses which tend to work best in this bed because it provides plenty of support with its firmness, edge protection that prevents sagging or deformation over time, and more!
Bench tests show that the average weight wearers sleep on their backs when they get into bed at night. This means you will want to look for features like an extra-firm feel or great pressure relief if back sleeping isn't your preference.
Bestar 4-Piece Queen Wall Bed
A Beautiful White Queen Murphy Bed
Your clean and chic space may be in need of a space-saver. Not only does this piece have all the fine lines and clean edges of a posh, yet subdued, princess. It's also got the classic fold-away benefits for when you need the room for entertaining purposes. We love how the style also brings together a certain amount of zen and traditionalism while keeping within the confines of a smart and fashion-forward feeling.
A Murphy Bed For The Dog
Big or small, indoor dogs need a place to rest too! And instead of an eye-sore of a black "prison-like" kennel, look into something that's not only comfy for the pooch but stylish for the home too (even if it's just in the corner).
When guests come over or you need the nook for extra holiday space, take the pup to the porch or outside for a run, while you tuck their pillowed palace away for the evening. Here is a great little murphy bed for your dog. Fold it away when you need more space or to tidy the house.
Murphy Bed Bunk Beds
Let's be honest, unless you've got the master bedroom of the house, you'll be needing to cut some corners when it comes to bulky furniture and big accent pieces. So, when the kid's corner room isn't allowing the space for his or her new "big" boy or girl bed, it's time to get savvy in style and organization. Whether your twins are sharing the bedroom or your teen needs the extra space for when he has friends over, a Murphy (or twin set) has the "cool" factor and the versatility factor that parents love.
A Swing Style Murphy Bed
This office and study space is beautiful, don't you think? Well, in a blink of an eye it can turn into the chicest and inviting guest room around. That hidden door behind the chocolate sofa can be pulled down to instantly create a soft place to rest your family or friends' heads when they stay for an evening. This entire system is conducive to the organization and utilizing every part of a space, big or small, it does its job.
Wardrobe Murphy Bed
Folded away in the daytime for a place to entertain and relax with friends, then once the sun sets, use its turning piece wind down (literally and figuratively speaking, of course). This system again takes that foremost wall and makes every inch available for accents and functionality. Of course, the natural lighting of the room helps to brighten and spread the room's actual space.
Electric King Size Murphy Bed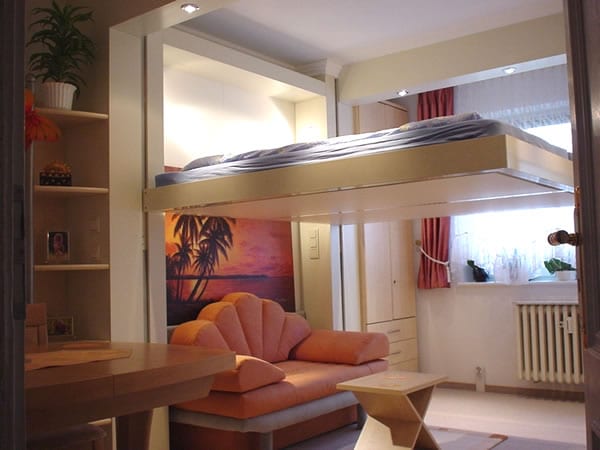 We're pretty sure it doesn't get any "cooler" or forward-thinking than this. With a click of the remote, your studio apartment can turn into a two-bedroom with ease. A king-size bed will literally pop right out of the ceiling and welcome your guests (or yourself) with open arms. Whether you install this beauty for when you have friends over or to better serve your entertaining space on a daily basis, it's a genius plan.
Murphy Bed With Cupboards
We love the chic, womanly touch that this space gives to our round of Murphy bed picks. Of course, its sharpness and contemporary magic have us swooning. But we also gush over the fact that this ready-to-assemble piece has a certain amount of femininity that most fold-away beds are rid of. It's a bit more delicate in design, but with all the bells and whistles intact.
Murphy Bed And Settee Design
Not only are you getting the space-saving option with this system, but you're also getting a charming sofa in the same breath. It certainly takes the saying "best of both worlds," or "have your cake and eat it too," to heart. The white and subdued camel hues also push that futuristic, modern style into the light. Unless told, we're pretty sure that no one would notice, at first glance, that there's a bed hidden inside that organizational wall system.
Which is why, this piece, won the best innovation award during the NEC Birmingham Furniture show. Again, it utilizes a big space, helping to hide clutter and chaos, while giving your guests throughout the holiday season a space to tuck in at night.
Murphy Bed And Desk
Classic and timeless office space by day and a place to sleep by night. Whether this functional design is installed in your studio apartment, making it easy to hide your personals during at-home work meetings, or turning your study into a guest room in a blink of an eye, it's another innovative and stylish way to use your home to its full advantage and full potential.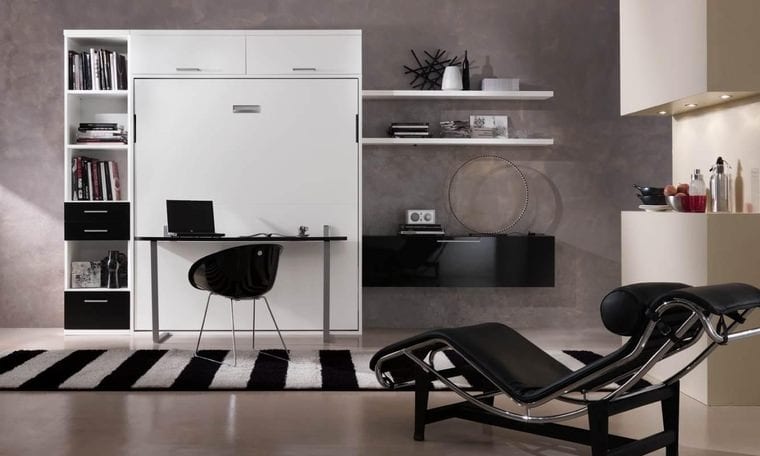 Murphy Bed And Wardrobes
What's so great about a fold-away design system that comes with most, is the amount of versatility it brings. You can hide everything inside in an organized and less chaotic way than having everything "un-stylish" laid out for the world to see. Which is why these beds offer great help to those in smaller homes or urban living environments, it helps with their modern goals while lessening the fuss.
Cream Double Murphy Bed
A savvy room partition turned everyday lounge zone with one simple movement, this is just another genius example of innovation and design. Tucked away throughout the day, you'll help to conquer your decor and design block and throughout the night you'll have a place to rest and enjoy or even a place for your best bud to spend the evening with you. Notice the "shelving" that stays on display at the footboard, it's a complete style enhancer.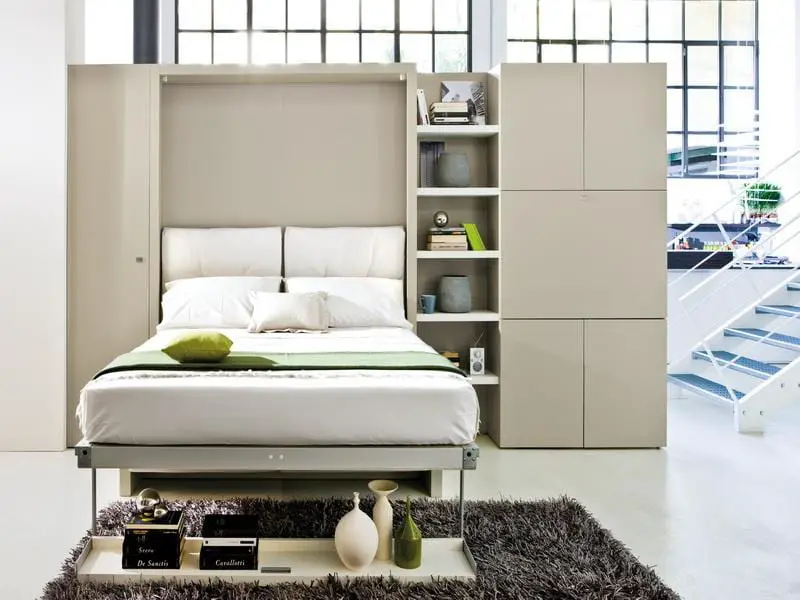 Murphy Bunk Beds With Desk
This twin saver is perfect for your teen's bedroom. She'll want the space to have slumber parties and do her homework in peace, without all the clutter that comes with the middle school years. That, and it'll be quite impressive when she gets to pull it down out of the wall in front of all of her friends. Remember, there's a "cool" factor that comes with this hideaway designs that other pieces just don't have.
The City Murphy Bed
And our final choice of the day, this City 2 system has everything you need to stay stylish, alert and uncluttered. Tuck away your books and other necessities of life throughout the day when you need some extra room for school projects. There's even a small closet in this design that makes the stress of organizing a smaller room so much easier. If you enjoyed this post be sure and check out our other cool Murphy Beds here!