The ersatz feminist in me is always on a lookout for various forms of art that pay homage to women and its silhouette. Listed below are some of the most stunning and innovative pieces of furniture that are distinctly feminine and embrace its curves proudly.
The Stiletto Table By Splinter Works
The Stiletto Table by Splinter Works is a versatile and iconic piece of furniture that can serve as both a desk and a dressing table. It features a playful design with a vivid sole and stiletto heel supporting a practical working surface, making it a perfect fit for shoe-lovers. The table is available in various sizes and can be customized according to individual preferences.
For use as a desk, the Stiletto Table offers the option of cable management with a conduit for a desk lamp or computer. As a dressing table, it includes baize-lined drawers where hair tools can be discreetly hidden and remain plugged in. The table can be finished in classic black or specified with different wood veneers. The underside can be any color, although the iconic red is favored.
Crafted with attention to detail, the Stiletto Table exemplifies Splinter Works' philosophy of furniture making. It is built to last, designed to withstand the test of time, and has a timeless appeal that transcends current trends. The table's seamless functionality is achieved through hidden finger grooves instead of handles, maintaining the clean sculptural shape.
When specified in wood, the Stiletto Table utilizes book-matched burr veneers on the top, creating a visually striking kaleidoscopic impression of the wood grain. This meticulous craftsmanship results in traceable and consecutive patterns of grain that enhance the table's aesthetic appeal.
The Stiletto Table is priced between £25,500 to £30,400, which includes delivery and VAT.
Additionally, the Stiletto Table is featured in the interior design of the Barnhouse at The Lakes by Yoo, an opulent and stylish development in the Cotswolds. The interior, designed by Kate Moss, showcases an eclectic mix of decor, including the Stiletto Table, which complements the luxurious and vibrant atmosphere of the space.
Splinter Works is known for designing sculptural furniture and statement pieces that challenge the norm and elevate everyday life. Their furniture aims to excite the senses and bring a sense of fun to the home. Each piece is carefully designed and handcrafted in fine materials, and the designs can be tailored to suit individual tastes.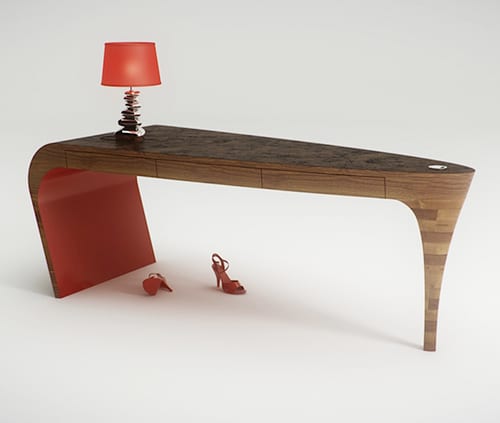 The Voici Lamp by Italamp
The Voici Lamp by Italamp is a unique lighting option offered by the company Italamp. The lamp is part of a collection that includes the Capri Lamp as well. These lamps are specifically designed to mimic women's clothing and incorporate feminine aesthetics into their design.
The Voici Lamp resembles a half-unzipped shirt or skirt and comes in three different sizes. It is crafted with attention to detail, capturing the allure and seductive qualities associated with feminine clothing. Italamp, the manufacturer of the Voici Lamp, is known for its expertise in producing classical and modern lighting options that evoke elegance and precision. Their designs often incorporate glass as a primary material, showcasing the company's extensive experience and knowledge in the field.
The Voici Lamp, along with the Capri Lamp and other Italamp products, offer disruptive innovation opportunities in the lighting design industry. They cater to consumers who appreciate feminine aesthetics and provide unique and visually appealing options for interior design and home decor. By combining fashion-inspired designs with functionality, these lamps can create an artistic and seductive ambiance in any space.
Italamp, an Italian company, has been a prominent player in the decorative lighting market since its establishment in 1975. With over 40 years of experience, they have mastered the art of blending tradition and contemporary design in their products. The Voici Lamp, like all Italamp offerings, reflects their commitment to craftsmanship, uniqueness, and preciousness in each design.
In summary, the Voici Lamp by Italamp is a lighting option that embodies feminine aesthetics and is designed to resemble half-unzipped women's clothing. It is part of a collection that includes the Capri Lamp and is crafted with attention to detail, showcasing Italamp's expertise in the use of glass and their commitment to elegance and precision. These lamps offer innovative options for lighting design, home decor, and interior design, creating visually appealing and emotionally engaging spaces for consumers.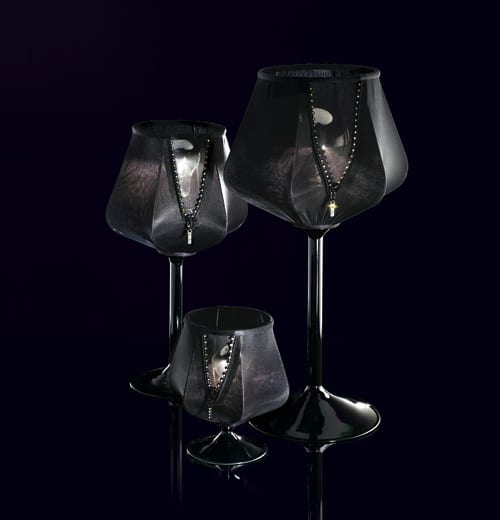 The Form Follows Function Sofa by Daan Mulder
The Sofa by Daan Mulder is designed with the principle of Form Follows Function.
Its sleek lines and minimalist design embody the essence of modernity. The Sofa seamlessly blends style and practicality, making it the perfect addition to any contemporary living space.
Crafted with meticulous attention to detail, every element serves a purpose, ensuring both comfort and functionality. The luxurious upholstery, available in a range of sophisticated colors, adds a touch of elegance to the overall aesthetic.
Whether you're lounging with loved ones or hosting guests, the Sofa by Daan Mulder offers an inviting seating experience that surpasses expectations. Experience the perfect harmony of form and function with this exceptional piece of furniture.
The Capri Lamp by Italamp
Introducing the exquisite and captivating Capri Lamp crafted by Italamp, a true masterpiece that emanates elegance and beauty in every detail.
The Capri Lamp, with its intricate design and unparalleled craftsmanship, instantly commands attention and creates an aura of sophistication. Its sleek curves and flawless finish showcase the artistry and meticulous attention to detail that Italamp is renowned for. Whether placed in a contemporary living room, a luxurious hotel, or a refined office space, the Capri Lamp effortlessly elevates any environment, becoming the focal point of admiration.
Its soft, warm glow casts a gentle ambiance, casting enchanting shadows that dance across the room, creating an atmosphere of enchantment and allure. The Capri Lamp is not just a lighting fixture; it is a timeless symbol of refined taste and refined living, a beacon of style that transcends trends and captivates discerning individuals seeking the pinnacle of elegance.
The Lily Lace Chair by Dror Benshetrit
Dror Benshetrit's Lily Lace Chair.
The Lily Lace Chair, designed by Dror Benshetrit, embodies elegance and grace. Its intricate lace-inspired structure showcases the fusion of art and functionality. Crafted with meticulous attention to detail, the chair captivates with its delicate yet sturdy design, inviting anyone to experience comfort in style. Every curve and line of the Lily Lace Chair reflects Benshetrit's creative vision, offering a harmonious blend of aesthetics and ergonomics.
This masterpiece of design transforms any space into a sophisticated haven, celebrating the beauty of form and the power of artistic expression. The Lily Lace Chair stands as a testament to Benshetrit's ingenuity, inviting us to embrace the artistry that can be found within an everyday object.
The Marea Swarovski Table Lamo by  Elizabeth Lyons
Marea Swarovski Table Lamp by Elizabeth Lyons.
The Marea Swarovski Table Lamp, designed by Elizabeth Lyons, showcases a brilliant fusion of elegance and innovation. Crafted with meticulous attention to detail, this extraordinary lighting fixture embodies the essence of sophistication. Its sleek and contemporary design effortlessly complements any interior decor, adding a touch of glamour and refinement to any space.
The Marea Swarovski Table Lamp is a testament to Lyons' artistic prowess, combining Swarovski crystals with exquisite craftsmanship to create a mesmerizing interplay of light and form. Immerse yourself in the enchanting radiance that this masterpiece emanates, elevating your surroundings with its captivating charm.
The Barbie Foot Foosball Table by Chloe Ruchon
"The Foosball Table inspired by Barbie, created by Chloe Ruchon."
Designed with an irresistible blend of femininity and playful innovation, the Foosball Table inspired by Barbie brings a delightful twist to the world of classic games. Crafted by the talented Chloe Ruchon, this extraordinary creation captures the essence of Barbie's timeless charm, captivating both collectors and game enthusiasts alike. With its vibrant colors, meticulously detailed players, and a touch of glamour, this foosball table transforms any space into a vibrant playground that exudes style and excitement.
Immerse yourself in the exhilarating matches, where skill and strategy intertwine with the spirit of Barbie, creating unforgettable moments of friendly competition. Prepare to be enchanted by this remarkable fusion of design and nostalgia, as Chloe Ruchon's ingenious creation stands as a testament to Barbie's enduring influence on generations of dreamers and visionaries.
Mariposa Lighted headboard by Adele-c
The illuminated headboard named Mariposa, designed by Adele-c.
Mariposa, a radiant creation by Adele-c., transports you to a realm of enchantment. This mesmerizing headboard not only illuminates your space but transforms it into a sanctuary of elegance and sophistication. Crafted with meticulous attention to detail, Mariposa combines sleek lines with a touch of whimsy, resulting in a design that effortlessly captures the essence of modern beauty.
As soft light cascades through its delicate curves, a sense of tranquility washes over you, inviting you to indulge in the opulence it exudes. With Mariposa as the centerpiece of your bedroom, every night becomes a captivating journey into a world where dreams and art seamlessly intertwine.
Innocenza Womanly Chair by Polsit
The chair created by Polsit is called Innocenza, and it is designed specifically for women.
The chair's sleek curves and elegant design make it a perfect addition to any modern interior. Its cushioning is meticulously crafted to provide optimal comfort and support, catering to the unique ergonomic needs of women. Designed with both style and functionality in mind, Innocenza combines artistry and practicality seamlessly.
Whether it's for a workspace, a lounge area, or a reading nook, this chair effortlessly blends aesthetic appeal with exceptional comfort. Experience the embodiment of beauty and ergonomic excellence with Innocenza by Polsit, the perfect chair for the discerning woman.
The Wild Etiquette Lounge Chair by Dima Loginoff
The sensational and captivating Wild Etiquette Lounge Chair, masterfully crafted by the talented designer Dima Loginoff, embodies a perfect amalgamation of elegance and audaciousness, infusing a breath of fresh air into any space it graces. With its innovative design and impeccable attention to detail, this remarkable piece of furniture effortlessly merges sophistication with a touch of wildness, inviting you to indulge in the ultimate luxury and comfort.
The Wild Etiquette Lounge Chair is undeniably a true marvel, showcasing the ingenuity and artistic brilliance of its creator.
The Perspective Chair by Pharell Williams

The chair designed by Pharell Williams from a unique and innovative perspective.
It challenges traditional notions of furniture with its bold aesthetics and functional design. Crafted with meticulous attention to detail, the chair seamlessly blends form and function, creating a visually striking piece that also offers unparalleled comfort.
Embodying Pharell Williams' signature style, it features sleek lines, vibrant colors, and unexpected materials, making it a true work of art. This avant-garde creation not only elevates the ambiance of any space but also provides an inviting seating experience that transcends conventional expectations.
Conclusion
These stylish furniture pieces cater to the desire for sophistication and elegance while embracing femininity. The collection on Furniture Fashion offers a wide range of options, each meticulously designed to enhance the aesthetics and functionality of any space.
From exquisite armchairs with delicate patterns to graceful dressing tables adorned with ornate details, these furniture pieces exude charm and grace. Whether you seek to create a cozy reading nook or a luxurious boudoir, the selection on Furniture Fashion will inspire and captivate. Embrace the allure of these beautiful designs and elevate your home with elegance and femininity.
Related Articles: