Murphy Beds For Small Rooms
When it comes to being space-conscious, Murphy beds do a great job in conserving precious space. In 10 Cool Murphy Beds for Decorating Smaller Rooms we set out to highlight different models that may work in your particular space.
Challenges in space decorating can start with a spare bedroom, a college dormitory, or even a first apartment. Whatever the need, we realize that smaller square footage footprints are becoming more common in housing. Now the good news is that needs drive new technology and innovation which brings forth designs we perhaps have not seen in the past.
All images are copyright to Flying Beds
Image
Title
Price
Prime
Buy

Top

Bestar 107" Set Including a Queen Wall Bed and Two Storage Units

Prime

Take a Look
Atlantic Furniture Nantucket Murphy Bed Chest with Charging Station & Mattress, Queen, White

Prime

Eligible

Take a Look
Night & Day Furniture Murphy"Cube", Queen, Cherry

Prime

Eligible

Take a Look
SDS Murphy Cube Queen Cabinet Bed Fully Assembled (Stonewash)

Prime

Take a Look
Bestar Queen Wall Bed - Pur

Prime

Take a Look
Emurphybed Daily Delight Murphy Cabinet Chest Bed with Charging Station & 6" Memory Foam Mattress, Queen (Java)

Prime

Take a Look
Product prices and availability are accurate as of the date/time indicated and are subject to change. Any price and availability information displayed on [relevant Amazon Site(s), as applicable] at the time of purchase will apply to the purchase of this product.
Prices pulled from the Amazon Product Advertising API on:
Tama Desk Bed
"Tama" is a larger version of a desk and bed combination that features a full-size mattress. Tama is a great example of a Murphy bed as it combines function and fashion into one package.
The fact that provides a full mattress makes this more suitable for a small apartment or flat as opposed to student housing. There are many applications in decorating where this piece of furniture could work. Price: $5,386.
Dile Sofa Bed
"Dile" is a sofa bed that offers the most flexibility for decorators of all the models discussed in the article. A sofa provides a seating area that is more likely to be used than a desk. With laptops today a person can work anywhere and therefore, does not need to be tied to a desk. I do like the darker wood stain and think that this would be a sharp model for a living room.
Combining seating with bedding may prove more useful than a desk-bed combination depending on how your time is spent each day. I see that a student may need the desk-bed combination whereas a worker may need the sofa-bed combination. Price: $5,710.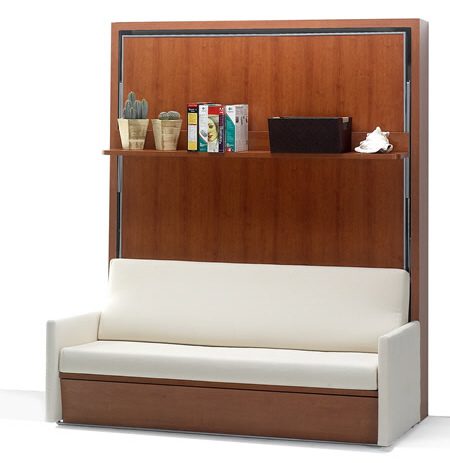 Leo Single Bunk Bed
"Leo" is a single bunk bed model that combines a hidden bed and a storage shelf. The concealed twin bed is at the bottom of the shelf and appears quite natural upon first glance.
This Murphy bed would be great in a one-room floor plan where there is less structure and perhaps the living room, kitchen, and bedroom are all together. Price: $3,037.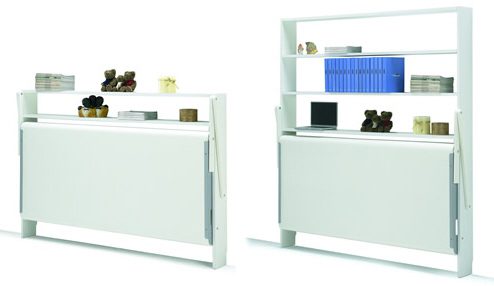 Tale Computer Desk Bed
"Tale" is a computer desk that also doubles as a Murphy bed. I really like this bed for a student since the desk is a nice size allowing for students to spread out assignments and have enough workspace. This piece is optimum for a dormitory room at a school or in some sort of campus housing. Price: $3,650.
Isola Student Bed
The student bed "Isola" is a rollaway bed that is suited for a very mobile person. The bed itself is on wheels and has a desk on the other side of it. This design is geared for very small places such as campus housing on a university.
The mobility of Isola would come in handy for students that need to put-away their bed when not sleeping and perhaps even roll it to a specific area. Price: $3,351.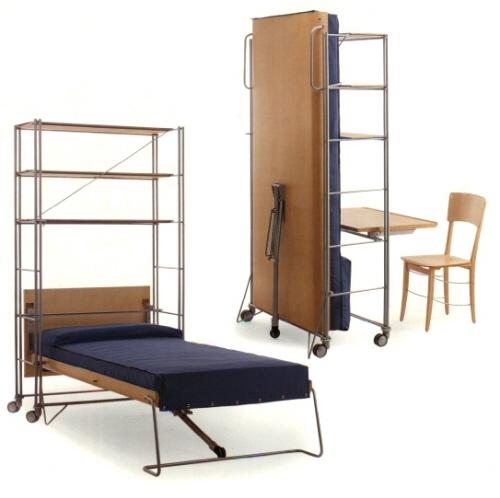 Twirly Bed
The "Twirly Bed" called "Matrimoniale" is a revolving queen Murphy bed. I like hidden beds such as these since their purpose is to make guests not see the bed at all. This model is well hidden away in a storage unit that might appear as some type of shelving to help organize a home.
The queen model also has a fold-down work table that can be used for many different activities. Price: twin – $4,053; queen – $6,192.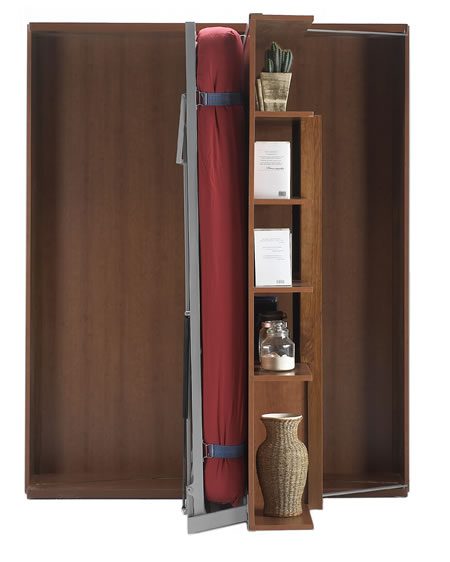 Sofa Bunk Bed
"Mr. Hide" is a sofa bunk bed that folds out into several sleep areas that can accommodate three people. This is a lot of "sleep area" for one piece of furniture.
A family holiday comes to mind as a type of need where the sofa bed may come in handy. Of course, this is very cozy for a family to be so close together and hopefully, a feud would not erupt! Price: $5,418.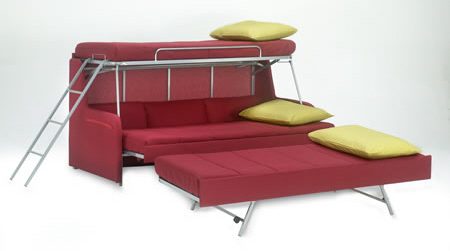 Vertical Bunk Beds
These vertical bunk beds, named "Ledo", use wall mounting on a small footprint to produce two twin beds. This design is intended for quick sleeping arrangements that might be suitable in a shelter, fire station, or another public area that provides assistance to the community. The top bunk does not have rails which makes this a poor choice for children. Price: $3,822.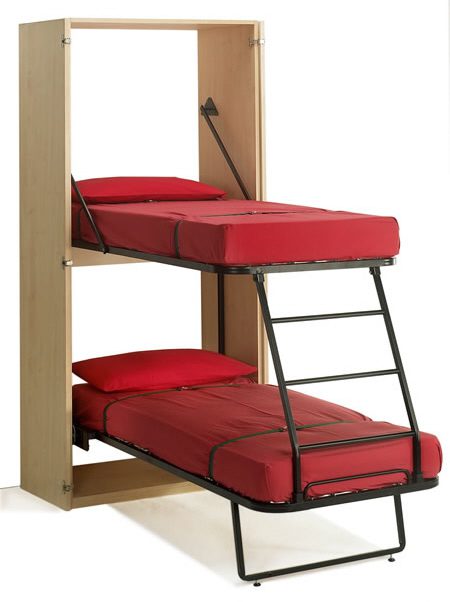 Night & Day Furniture Murphy Cube Cabinet Bed, Queen, Cherry
Solid Hardwood Construction

Includes a 6-inch Tri-Fold Premium Gel Memory Foam Queen Mattress

Room for pillows and sheets when bed is closed (approx. 6)

3 Locking hinges for opening and closing

Easy to Follow Assembly Instructions

Dimensions: When Closed: 36.6 H, 64.1 W, 26.4 L | When Open: 25.7 H, 64.1 W, 80.3 L
Wardrobe Murphy Bed
"Goalani" is the largest of all in this story. This Murphy bed combines a storage wardrobe, shelving, and bed all into one model. My first impression is that this piece would be much more difficult to move due to its size. On the other hand, it does provide a full room of furniture in one unit which may save time in shopping for complimentary furniture pieces. Price: $4,313.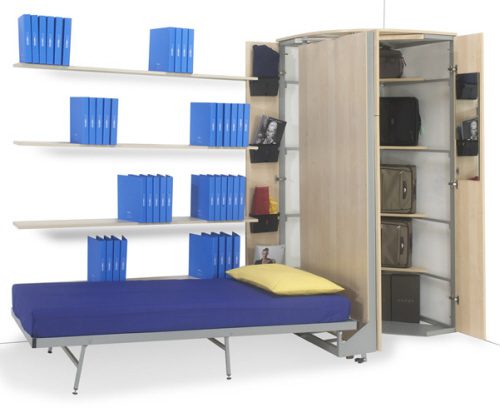 Stacked Twin Murphy Bed
"Castelo" is a bunk bed system just designed to provide sleeping arrangements. There is not a real fancy element to it which makes me picture it as a part time solution for accommodating guests.
The challenge with a tall piece like this may be in finding a closet in your home to store the bed. Its height may not fit into many closets. It does fold up and can remain on a wall though it may not look that serves a dual-purpose. This piece features a width of 11″ folded up which is remarkably skinny. Price: $4,050.
All of these products can be found at the Flying Beds.