If you are shopping for modern bathroom sink faucets, then look no further.  These ten examples found by our editors totally sizzle.  The intent was to find products that are design statements which guests and family alike would rave about.  Think about all the mundane examples in the marketplace.  They serve a useful purpose, but lack decorative appeal.  We have an ensemble of single handle, wall mounted, stainless and brushed nickel variety for your viewing pleasure.  I do want to purpose readers that some of these may be better suited in a small lavatory than one that is used all the time.
Take a look at these and dream big about the possibilities in your own home.
The above image depicts a great model featuring wonderful stainless appeal and a crisp right angle.  Though just a single handle, the style does not appear to be mundane or simple in any way.  This is a practical model that works in nearly any home whether it be decorated in a traditional or modern way.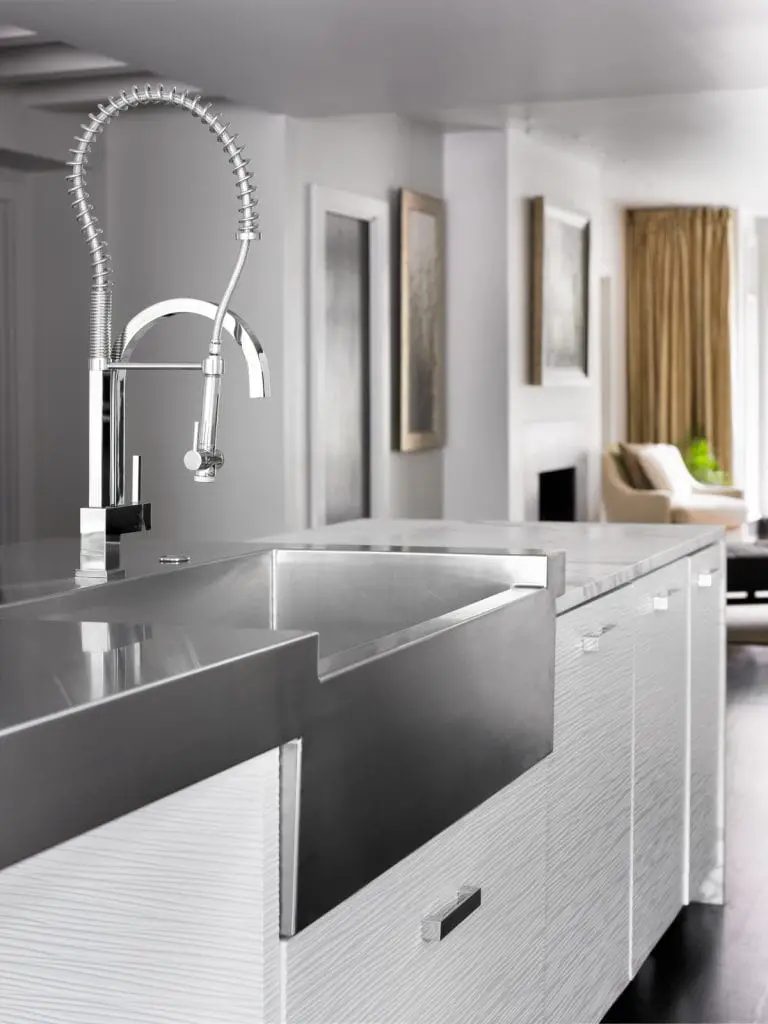 You can imagine here that the water stream could be unique coming from the above hardware.   This is an unusual shape to consider, but shows to the diversity of products on the market.
I really liked this one a great deal.  How great is the stream coming from this?   I can see where this may not be practical as a main bathroom sink such as in a master bedroom that sees a lot of use.  This would be a great selection for a half bath.  Guests would certainly comment on the ingenuity of this design.
[amalinkspro type="showcase" asin="B07XPJHFKM" apilink="https://www.amazon.com/dp/B07XPJHFKM?tag=furnitur11-20&linkCode=osi&th=1&psc=1″ new-window="true" addtocart="false" nofollow="true" sc-id="4″ imgs="LargeImage" link-imgs="false" specs="√ Brushed nickel finish provides a lightly brushed warm grey metallic look.~~~√ Long lever handle makes the temperature and flow rates change in an effortless way.~~~√ Single hole mount creates a cleaner look against custom countertops,Equipped with deck mounting for 1-hole/3-hole sink installations, mounting holes ≥1.2inch(30mm).~~~√ The ultra-wide waterfall flow provides you with the most comfortable using experience.~~~√ After your purchase, you will receive 5-year warranty from VOTON! (ASIN: B08HV2BPML includes pop-up drai" btn-color="#ff9900″ btn-text="Check Me Out On Amazon" alignment="aligncenter" hide-prime="0″ hide-image="0″ hide-price="0″ hide-button="0″ width="750″]Waterfall Spout Single Handle Bathroom Faucet Brushed Nickel Commercial Modern Lavatory Deck Mount[/amalinkspro]
Now here is one for the ages!  What a great design and idea to use the flat surface to deliver a stream of water to the sink.  Cleaning could be an issue here at some point in case water stains start to eat at the surface.
[amalinkspro type="showcase" asin="B072X98BD8″ apilink="https://www.amazon.com/dp/B072X98BD8?tag=furnitur11-20&linkCode=osi&th=1&psc=1″ new-window="true" addtocart="false" nofollow="true" sc-id="4″ imgs="LargeImage" link-imgs="false" specs="Updated Metal Push & Seal Drain assembly and supply hoses included.~~~Certified to cUPC and NSF 61~~~Brushed nickel finish, resist corrosion and tarnishing through everyday use~~~2 lever handles for easy water adjustments~~~Durable construction and a transitional design" btn-color="#ff9900″ btn-text="Check Me Out On Amazon" alignment="aligncenter" hide-prime="0″ hide-image="0″ hide-price="0″ hide-button="0″ width="750″]PARLOS 2-Handle Bathroom Sink Faucet with Drain Assembly and Supply Hose Lead-Free cUPC Lavatory Faucet Mixer Double Handle Tap Deck Mounted Brushed Nickel,13598[/amalinkspro]